2021 - 2022: Beyond the Great Silence: The Holocaust in Art, Memory, and Life
Recorded events are available via:
Sponsored by Judi Gottschalk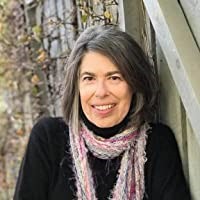 In the summer of 1942, twenty-two year-old Franci Rabinek began a three-year journey that would take her from Terezin, the Nazis' "model ghetto," to the Czech family camp in Auschwitz-Birkenau, slave labor camps in Hamburg, and finally Bergen Belsen. Trained as a dress designer, Franci survived the war and would go on to establish a fashion salon in New York. Franci's War is her memoir of life in Nazi-occupied Europe, introduced in this talk by her daughter Helen Epstein, a prolific journalist and author. Besides contributing to major dailies such as the New York Times and the Washington Post, Epstein has published several books including her highly acclaimed Holocaust Trilogy which begins with the volume Children of the Holocaust. Her work has been published in numerous languages.
Link: Franci's War
Sponsored by Daniel and Phyllis Epstein
Co-sponsored by Comics@SDSU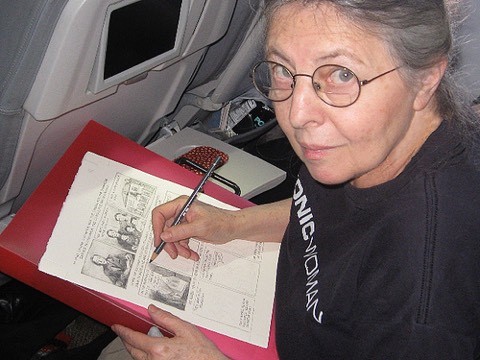 Among the countless tragic events making up the colossal tragedy of the Shoah, none is more shocking perhaps than the mass deportation of Hungarian Jews in 1944. In the course of a few short months, more than 440,000 men, women, and children were deported to Auschwitz and almost inevitably murdered on arrival. Thanks to false papers, two-year old Miriam Katin escaped this gruesome fate. In 2006, drawing on her mother's memories of the Holocaust, Katin published We Are on Our Own, a graphic novel inspired by Art Spiegelman's Maus. Katin trained as a graphic artist in Israel and is the recipient of the Inkpot Award and the Prix de la critique. Her work has been featured in the 2007 and 2014 volumes of The Best American Comics. She will be introduced by Dr. Elizabeth Pollard, a historian and founding member of the Comics Studies Collaborative at San Diego State University. Pamela Jackson, the popular culture librarian in charge of the Comic Arts archive at SDSU, provides concluding remarks on the potential of the collection for teaching and research.
Link: https://hlhw-nov21-drawing-through-trauma.eventbrite.com
Lou Dunst Memorial Lecture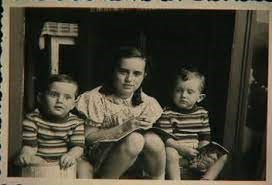 It is difficult to imagine a more hostile place to be a child than in the Nazi concentration/extermination camp Auschwitz. Yet, this was the fate, at least for a time, for more than 1.5 million children during the Holocaust. Among them were twins George and Paul Hadl, and their older sister, Eva from Budapest, Hungary. Deported to Auschwitz-Birkenau at the age of 6 in the summer of 1944, George and Paul, along with their sister and mother, were lodged in the children's barracks (Kinderlager). Despite the horrible conditions in the camp and frequent medical experiments, the Hadl children and their mother miraculously survived the war. Upon liberation, the Hadls returned to their home in Budapest. In 1956 during the Hungarian Revolution, George and Paul escaped Hungary for a better future in United States. At this event, he will share his memories and insights in conversation with his grand-daughter Stephanie Heimler.
Sponsored by Laurayne Ratner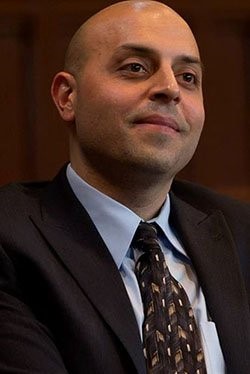 When the Second World War came to an end, Berlin, the capital of the Third Reich, lay in ruins. Few if any contemporaries could have anticipated that seventy years later, Berlin would boast large diaspora communities of Palestinians and Israelis who have made a home among Germans. In The Moral Triangle Sa'ed Atshan and Katharina Galor draw on ethnographic fieldwork and interviews with Israelis, Palestinians, and Germans in Berlin to explore the fraught relationship between the three groups in the context of official German policies, public discourse, and the private sphere. Dr. Atshan is Associate Professor of Peace and Conflict Studies at Swarthmore College and the author of Queer Palestine: Empire of Critique. Katharina Galor, an art historian and archaeologist specializing in the visual and material culture of Israel-Palestine, is currently the Hirschfeld Senior Lecturer of Judaic Studies at Brown University. Her publications include The Archaeology of Jerusalem: From the Origins to the Ottomans (co-authored with Hanswulf Bloedhorn), Finding Jerusalem: Archaeology Between Science and Ideology. The event will be introduced by DAAD visiting professor Jörg Neuheiser. UC San Diego professor of history Frank Biess provides comments.

Hirschfeld Senior Lecturer of Judaic Studies
Co-sponsored by Middle East Studies
With Support from Thurgood Marshall College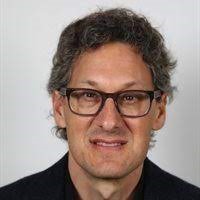 Hugo Marcus (1880–1966) was a man of many names and identities. Born a German Jew, he converted to Islam and took the name Hamid, becoming one of the most prominent Muslims in Germany prior to World War II. Renamed Israel by the Nazis, he was sent to the Sachsenhausen concentration camp before escaping to Switzerland. In exile he fought for homosexual rights and wrote queer fiction under the pen name Hans Alienus. In his new book German, Jew, Muslim, Gay, Marc David Baer tells the story of a highly unconventional man, in the process revealing new aspects of the interconnected histories of Jewish and Muslim individuals and communities, including Muslim responses to Nazism and Muslim experiences of the Holocaust. Marc David Baer is professor of international history at the London School of Economics and Political Science and the author of several books including The Dönme: Jewish Converts, Muslim Revolutionaries, and Secular Turks; and Sultanic Saviors and Tolerant Turks: Writing Ottoman Jewish History, Denying the Armenian Genocide.
Sponsored by Nancy and Joel Dimsdale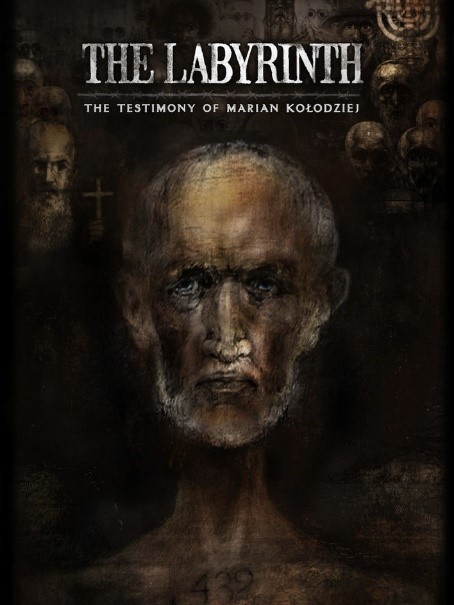 Memory, art and hell collide as an Auschwitz survivor finally confronts the horrors of his past after 50 years of silence. Marian Kolodziej, a Polish Catholic, was on one of the first transports to enter Auschwitz. He survived five years imprisonment and never spoke of his experience until after a serious stroke in 1993. He began rehabilitation by doing pen-and-ink drawings depicting his terrifying experience. His drawings and art installations, which he called The Labyrinth, fill the large basement of a church near Auschwitz. Through the blending of his testimony and graphic drawings, this documentary explores the memories and nightmares that were buried for years. The post-film screening discussion features producer Father Ron Schmidt – a Jesuit priest and award-winning documentary filmmaker – and renowned Holocaust scholar Dr. Michael Berenbaum.
Sponsored by July Teper Galper
With Support from the Department of Urban Studies and Planning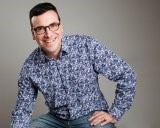 How does the concept of space enhance our understanding of the Holocaust? In this talk British historian Tim Cole tells the story of the Shoah through an exploration of landscapes victims moved – and were moved – through across Europe. His exploration of the "Holocaust landscapes" shines a powerful light on the geographic dimensions of the Shoah. Dr. Cole earned his Ph.D. in geography from the University of Cambridge with a study of the spatiality of ghettoization in Budapest and is a professor of social history at the University of Bristol, UK. A pioneering scholar of the "spatial turn" in Holocaust studies, he is involved in several collaborative digital humanities and creative technologies projects including the Holocaust Geographies Collaborative. Among his major publications are Holocaust City, Traces of the Holocaust, and Holocaust Landscapes.