UC San Diego Library Tours
Named in honor of Audrey and Theodor Seuss Geisel, the Geisel Library building is a UC San Diego landmark.
Virtual Tours of Geisel Library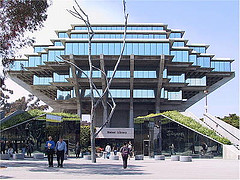 Explore Geisel Library's 1st and 2nd Floors online through the Virtual Library Tour to learn about library spaces and services that support the UC San Diego community.
Self-Guided Tours of Geisel Library
Excluding the first week of the Fall quarter and the last two weeks of each quarter during the academic year (see the campus calendar for details), Geisel Library is open for self-guided tours. Visitors are welcome to explore the 1st and 2nd Floors of this iconic building, which are designed for collaboration, social learning, and user/staff interaction. Because Floors 4-8 are designated for quiet or silent study, visitors are not permitted on these upper floors. Download the Geisel Library Building Guide. Library visitors are asked to respect the needs of the campus community by minimizing interference, keeping voices moderate, not blocking traffic, and keeping visits short.
Subject, Discipline, or Course-Specific Tours
Tours of Geisel Library or WongAvery Library, conducted by subject-specialist librarians, may be available during business hours on weekdays for UC San Diego classes, departments, and Visiting Scholars. Interested parties in these eligible groups may contact the appropriate librarian directly to arrange such a tour, which may be of either library building depending on the subject, discipline, or course.
Art and Architecture-Related Tours
Subject to employee availability, tours focusing on the building's architecture and art may be available during business hours on weekdays. Contact LearningSpaces@ucsd.edu to inquire about these types of tours.
UC San Diego Campus Tours
Discover the history, art, and architecture of the UC San Diego campus — from world-famous buildings to historic eucalyptus groves and renowned public artwork. Free walking, bus, and green building tours are held year-round by the UC San Diego Visitors Tour Program and showcase the most notable features of the 1,200 acre campus. You can also view a virtual tour of campus.
Comments or Questions?
Send questions, comments, and suggestions to LearningSpaces@ucsd.edu.