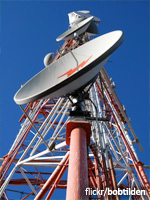 The origins of the San Diego telecommunications industry date to the 1971 relocation of the Linkabit Corporation to San Diego from Los Angeles. Founded by Irwin Jacobs and Andrew Viterbi, Linkabit quickly became a key player in the region's economy with over seventy-five direct or indirect spinoff companies, the best known being Qualcomm founded by Jacobs and Viterbi and five other Linkabit alumni in 1985.
In its work for government agencies, military and private industry, Linkabit became an innovative industry leader by contributing to coding schemes for NASA's deep space probes, creating satellites enabling live data communications between Wal-Mart corporate headquarters and retail stores, and introducing digital technology into television transmissions. Perhaps Linkabit's greatest legacy is its achievement-oriented culture and hiring of top students and professionals who have gone on to found their own high-tech startup ventures in the San Diego region.
Today, San Diego has become the home to just more than 1,000 communications firms. The Region now includes an extensive network of support entities, professional organizations and a dynamic educational community. San Diego, in 2010, is said to have the highest concentration of wireless employment in the United States and with 75,000 miles of underground fiber optic cable, more than any city of its size in the nation.