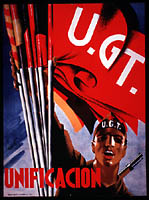 U.G.T. Unificación
[U.G.T. Unification]. Signed: Canet.. Gráficas Valencia, Intervenido, U.G.T., C.N.T. Lithograph, 7 colors; 115 x 85 cm.
In this poster, a member of the UGT cheers as he extends the flags of the major political and labor organizations in the Republican zone. He holds up the red and gold striped flag of Catalonia; the Republican tri-color; the red and black flags of the anarchist CNT and FAI; and the red banners of the PCE (Spanish Communist Party) and of his own union. The figure wears a khaki UGT cap with a red five-pointed star above his forehead. The star had become an institutionalized symbol of the Soviet Union in its 1924 constitution, but many revolutionary parties and organizations in Spain used the symbol regardless of whether or not they adhered to the Third International. The poster was released in Valencia, probably in late 1936 or early 1937, when Francisco Largo Caballero became prime minister of the Republican government. The image was designed by Canet, an artist who worked primarily for the UGT, but who also created posters for other organizations.
Canet's militiaman holds six different flags and their staffs in his gigantic hand. Clearly the man represents the UGT, and the poster suggests that the union can and should lead all the forces in the Republican zone. On November 3, 1936, only two months into his first government, Largo Caballero reshuffled his cabinet in the spirit of unification. At that time, Largo offered leaders of the CNT (long-time rivals of the UGT) four cabinet positions: the Ministries of Justice, Commerce, Health & Public Assistance, and Industry. It was not only the first time that the CNT had participated in an official government, but it marked one of the first times since October 1934 when the unions tried to put their differences aside and work together. It is this spirit of cooperation and unification that is glorified in the poster.
Unfortunately for the Republic, this unification did not last. While the CNT and UGT grew increasingly closer and successfully ran many jointly collectivized enterprises, the PCE and its allies grew increasingly belligerent to the revolutionary left. Under the guise of "winning the war," the PCE sought to curb Largo Caballero's revolutionary tendencies and to discredit the anarchist and socialist collectives. With the aid of the Soviet police, the PCE created a civil war within the Civil War in the Spring of 1937, when a smear campaign against Anarchists and the anti-Stalinist Communists led to violent confrontations in Barcelona.