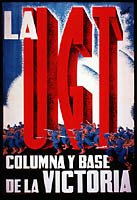 La UGT Columna y base de la victoria
[The UGT Pillar and Foundation of Victory]. Signed: Canet. Gráficas Valencia, Intervenido, U.G.T. C.N.T. Lithograph, 4 colors; 100 x 71 cm.
In this poster, at least twenty militiamen dressed in the typical blue boiler suits of the popular militia jump out from behind giant red letters that spell out the acronym "UGT." The large red letters suggest the solid foundation and backing that is provided to workers by the socialist trade union UGT. In this image, the militiamen charge their enemies with determination. By cutting off militia members at the left and right margins of the poster, the artist emphasizes the strength of these forces, effectively suggesting that there were more militia members ahead of the group pictured here, with more to follow.
This poster was released in Valencia some time before January 22, 1937, when the image was reproduced in the UGT newspaper Claridad. The poster was illustrated by Canet, an artist who worked primarily for the UGT, but who also designed posters for different republican agencies.
On September 4, 1936, Francisco Largo Caballero was charged by the president of the Republic, Manuel Azaña, to form a government representative of the forces most active in the fight against the Nationalists. His cabinet included three Left Republican members of the party Izquierda Republicana, two Communists, and five Socialists. Two months later, Largo Caballero reshuffled his cabinet to bring in the anarcho-syndicalist trade union CNT despite the fact that the CNT was the UGT's biggest rival. Much of the propaganda issued during the Largo Caballero government exalted the UGT as the foundation of unity and attempted to assert the UGT's vision of revolution and military strategy above all others. However, not all of the left looked to the UGT and Largo Caballero for guidance. In fact, the Spanish Communist Party (PCE) expected to direct military strategy and to have a bigger input in government as they were the only party with a direct relationship to the Soviet Union. Leading Communists, as well as the military advisors Stalin sent to Spain, frequently undermined Largo Caballero's autonomy. The battle to control the Republican zone was a battle of wills: just as the Communists attempted to ensure that they lead, so too did Largo Caballero, the Left Republicans, and the CNT. This poster is but one example of an organization in power touting itself as the key to victory.