Essays by Author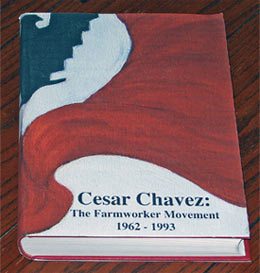 Book Cover Design by Susan Due Pearcy
The essays are arranged in chronological order, according to the author's years of service in the farmworker movement. No essay submitted to the Documentation Project was rejected, and none were edited for content, length, voice or tone.
To access an essay, please click on the headings with an x next to the title. That will display the list of essays. Then click on the author's name to launch a pdf. To read a short bio sketch about the author, please use the link to access Author Bios.
Essays by UFW Volunteers (212)
These essays – written by farmworker strikers and outside volunteers – are first hand accounts by those who helped to build the farmworker movement.
1960s (74)
1970s (133)
1980s (5)
Other Essays (84)
These essays or reprints provide commentary about Cesar Chavez and his farmworker movement. Writers include: UFW volunteers and a reporter, priest, theologian, filmmaker, academic, and legal scholar.
Poetry (3)
This poetry section is a welcome addition to the Documentation Project and will certainly be expanded in future updates.
Manuscripts (6)
This section is devoted to as-yet-unpublished journals, memoirs and dissertations relating to some aspect of the farmworker movement.
Books Out-of-Print (14)
The text of these out-of-print books is provided here solely for non-profit educational, historical and research purposes.. Any unauthorized commercial use of this material is prohibited.
Appendices (15)
A catch-all category for historical papers or reprints relating to Cesar Chavez and his farmworker movement.

These files require
Adobe Acrobat Reader.