Roster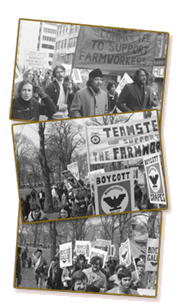 This ROSTER is a list of names of people who worked full time at some point during the farmworker movement – 1962-1993 – or who played a significant role in its development,: for example, Harry Bernstein of the Los Angeles Times, Ron Taylor of the Fresno Bee, Bill Kircher of the AFL-CIO, or Chris Hartmire of the National Farm Worker Ministry . . . and many others like them.
The ROSTER does not account for the names of thousands of volunteers in the United States and Canada who actively supported the boycott activities of Cesar Chavez and his farmworker movement.
Almost by definition, a ROSTER covering a thirty-one year social justice movement, cannot be complete. I estimate this version of the ROSTER published in November 2009 to be 90% complete.
Future editions may add many new names, but my work is finished.
LeRoy Chatfield
Founder/Director
Farmworker Movement Documentation Project
November 9, 2009
Roster A-E | Roster F-J | Roster K-P | Roster Q-Z
LEGEND
AWOC – Agricultural Workers Organizing Committee
NFWA – National Farm Workers Association
NFWM – National Farm Worker Ministry
Green color – Deceased

These files require
Adobe Acrobat Reader.