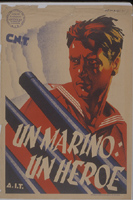 Un Marino, un heroe
[A sailor, a hero]. Arturo Ballester. Ortega-Intervenido, U.G.T.-C.N.T. Lithograph, 3 colors; 37 x 26 cm.
The sailor here appears as a revolutionary hero. The depiction of the sailor and the message on the poster is similar to those that portray soldiers at the front. The revolutionary character of the sailor is indicated by his red color.
At the start of the war, the Navy of Republican Spain was quite small with many ships that were at least fifteen years or older. All told, the Navy had one battleship (Jaime I), three cruisers, ten destroyers, nine torpedo boats, twelve submarines, one gunboat, six patrol boats, and fourteen landing craft with eleven auxiliary units. Consequently, the navy did not play a decisive role in the conflict. This is reflected in the small number of posters that portray sailors or the navy. Although the Republic did add a few more ships to the Navy during the war, the Navy primarily focused on the blockade of the Straits of Gibraltar from July to September 1936, which served to isolate the Nationalist forces in Spanish Morocco. The navy also defended supply lines from USSR. While the Nationalist Navy conduct attacks, the Republican Navy rarely engaged in direct combat with the enemy and did not attack Nationalist supply lines. With the advent of airplanes and the horrific bombing of Guernica, the Spanish Civil War is remembered much more for its aerial combat rather than its naval combat.
Arturo Ballester Marco is the artist of this poster. Ballester (1892-1981) was born in Valencia and attended the School of Arts and Trades at the School of San Carlos of Valencia. Afterwards, Ballester worked as an illustrator for several Valencian magazines. The posters he made before and during the Spanish Civil War are considered some of his most important works. He worked primarily for the CNT-FAI. Ballester's brother, Vincente, also made posters during the civil war.