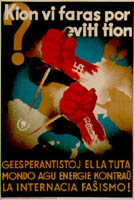 Kion vi feras por eviti tion? Geesperantistoj el la tuta mondo agu energie kontrau la internacia fasismo!
[What are you doing to stop this? Esperantists of the World, Pit Your Strength against International Fascism!]. . Graf. Ultra Lithograph, 4 colors; 109 x 78 cm.
In this poster, two red clenched fists prepare to stab bloodied daggers into the Iberian Peninsula. The two fists are emerging out of Italy and Germany and they bear the symbols of the fascist movements in those countries on their wrists. The image serves as a graphic representation of the role of Italy and Germany in the Spanish Civil War through their support of Franco and Nationalist Spain. It also reflects the fear that the battle for Spain was merely the next step in a fascist take over of Europe.
This poster also reflects one of the many attempts to internationalize the Spanish conflict. The text on the poster is written in Esperanto, an artificial language created by Lazar L. Zamenhof in 1887 in an attempt to develop a truly international language that belonged to no one people or nation. Given the presence of groups of soldiers and volunteers from other European nations, this poster, in using Esperanto, may have been an attempt to create solidarity among the various international groups contributing to the defense of the Spanish Republic. The use of Esperanto may have also helped to mediate between the different language groups within Republican Spain, which initially included much of Cataluña where Catalan is spoken, in order to motivate people in the struggle against fascism in Spain.