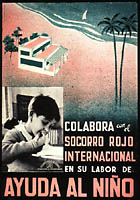 Colabora con el Socorro Rojo Internacional en su labor de ayuda al niño
[Collaborate with International Red Aid and its effort to help children]. Signed: Padial. Socorro Rojo de España. Lit: S. Dura. Socializado U.G.T. C.N.T. Valencia Lithograph, three colors and halftone, black and white; 40 x 27 cm.
Very little is known of the artist Padial. It is clear, however, that he was capable of combining photography with drawing and painting for Socorro Rojo Internacional's propaganda. In the photograph, a little girl peacefully enjoys a meal, presumably at one of International Red Aid's Children's Homes. In the background, a modern-looking villa overlooks a tranquil ocean setting; the sleek modernity of the villa suggests International Red Aid could safeguard children in places more suitable than the dilapidated cities. A rhythmic use of black, white, light red, and teal results in a serene and peaceful image. The poster appeals for financial support for these services that the International Red Aid offered children. The poster was released in Valencia through S. Dura, a lithography firm jointly collectivized by the CNT and the UGT, probably in late 1936 or early 1937, when many of the union chapters put aside their differences to coordinate their collectives.
International Red Aid originated in the Soviet Union in 1925. The organization was designed to provide assistance to political prisoners and their families throughout the world. It first made its appearance in Spain after the workers' rebellion of October 1934. With the financial support of the Comintern and private donations, International Red Aid became one of the largest and most recognizable charity organizations of the Spanish Civil War: it transformed various buildings throughout the Republican zone into hospitals or clinics, organized a transportation network that facilitated getting medicine and provisions to soldiers at the fronts, and transported casualties from the battle fronts to its vast hospital network. International Red Aid also covertly aided communist sympathizers trapped in the Nationalist zone make their escape to the Republican zone.