It all started with a simple question posed by two UC San Diego faculty members in the Department of Urban Studies and Planning (USP): Can we make a map of the homeless encampments reported to the San Diego 311 app? The simple answer to this question was 'yes,' but it led to broader conversations about the availability and accessibility of data related to housing and homelessness in San Diego County. What became clear is that there was no central source of data, and almost no geo-spatially visualized data, that researchers could use to understand the "where" of housing and homelessness.
Having supported a number of USP faculty in their use of Geographic Information Systems (GIS) and geospatial technologies for courses and research, the faculty members knew to inquire with GIS Librarian Amy Work about geospatial platforms that would support such an endeavor. With the wheels in motion and external seed funding secured, the Homelessness Hub Data Bank (H-Hub Data Bank) was created using GIS as the underlying platform. In addition to helping launch the program, the Library continues to provide technical and software support as well as insights into analysis, visualization and data collection and organization.
The H-Hub Data Bank enables researchers to understand the spatial relationships between individuals who are experiencing homelessness and the region's various systems of transportation, social and human services, open space, health, hygiene and housing. The H-Hub Data Bank staff researchers, as well as undergraduate and graduate students, organize existing datasets, create new datasets from various formats, and develop data collection tools for field workers to use to fill gaps where spatial data does not yet exist. Oftentimes, the Library will assist researchers in leveraging tools for efficient location-based data collection, formatting the data or identifying datasets that may be of interest.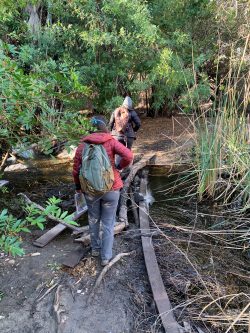 Much of this work is informed by collaborative relationships with organizations in the public, private and nonprofit sectors. For example, through conversations with colleagues at the San Diego Housing Federation and staff for the county Board of Supervisors, the H-Hub Data Bank identified a need for visualizations and analyses of affordable housing locations and potential sites for new housing in the county. Students and faculty working on the effort converted location and other information from PDF files into workable data points to create the "Affordable Housing Inventory" and "Inventory of Potential Sites for Future Affordable Housing Development," which allows for identification of affordable housing locations and ideal locations for future construction.
"It's a significant time investment to aggregate and summarize these data into a clean and understandable dataset," said H-Hub Data Bank Research Assistant Andrew Nguyen '20. "This experience of converting and combining different PDFs for each municipality in the county only emphasized the utility of the H-Hub Data Bank, which can both be a discussion space for data needs among service providers, researchers, and policymakers and also provide capacity and resources to address those needs."
Serving as a continuous partner throughout the various phases of the H-Hub Data Bank's efforts, the Library aims to be a resource for the research teams, and in effect, streamline their research needs based on tools and platforms available to them. "Without the support of Amy and the Library, we would be spending a lot more time learning methods, finding resources and figuring out Esri's Hub and related tools," said USP Continuing Lecturer and Staff Research Associate Julie Wartell.
In another project, UC San Diego researchers are quantifying the impact of human fecal contamination in the San Diego River bed from homeless encampments with the Southern California Coastal Water Resource Project. Agencies in the region have assumed encampments are a significant polluter in regional watersheds but have never proven this to be the case or conducted a study to identify viable alternatives for toileting habits that protect the health of individuals and the
environment. With technical support from the Library, the H-Hub Data Bank designed a survey to assess defecation practices and preferred alternatives of individuals living in the San Diego River bed.
With San Diego's longstanding and prevalent housing crisis, there is no shortage of work for the H-Hub Data Bank and its partners. In addition to the aforementioned projects, they are actively working with the University of San Diego and People Assisting the Homeless (PATH) to map downtown San Diego's single-room occupancy hotels and with the Eviction Prevention Collaborative to collect, manage and analyze data related to evictions and outreach.
The group is working to become the regional hub for data needs and program analysis around housing and housing loss with advocates committed to reducing homelessness. According to the program's faculty co-directors, Mirle Rabinowitz Bussell and Leslie Lewis, "Our goal is to be proactive rather than reactive. We want to work with our community partners and research team members to identify compelling current challenges and opportunities and co-design approaches to evaluate them in order to inform policy and program development."
Recent philanthropic support from campus friends Phyllis and Dan Epstein and Hanna and Mark Gleiberman is helping this vision become a reality through the establishment of the Homelessness Hub at UC San Diego, which incorporates the Data Bank into a more expansive effort to collect and analyze data in order to evaluate programs and identify ways to increase affordable housing and reduce and prevent homelessness.
For additional information on the project, visit homelessnesshub.ucsd.edu. If you are a student, researcher or faculty member with questions about how to integrate location or geospatial information into your research, schedule a consultation with Amy Work at awork@ucsd.edu.