It's been a year since the DML helped Birch Aquarium staff design a prosthetic shell piece for their star turtle. The Loggerhead Sea Turtle was rescued from a New Jersey power plant in 2013 with a large gap in the bottom right part of her shell. This gap, along with an abnormal curve of her spine and paralysis of her back flippers, is likely due to trauma experienced in the wild before she was rescued.
The brace, shown in the video below, is made of a rigid white plastic that was 3-D printed to fit the turtle's shell precisely. There is a ratcheting plastic cable that attaches to two fasteners to provide strength, support and pressure as needed to allow flexibility as she grows. A velcro neoprene weight pocket is also attached, separately, to help provide neutral buoyancy while she rests. All of the equipment used was adhered with a safe, two-part marine epoxy. The sea turtle, which could grow to as much as 250 pounds — will eventually outgrow the brace and have to be fit for a new one.
A year later, the Digital Media Lab is now working to analyze the turtle's shell shape to see if the brace has had any impact on her spinal alignment. After reviewing these high resolution 3D CT scans, it appears that she's not suffered any noticeable change to the shell shape or any adverse impacts. Regular monitoring is necessary as the sea turtle continues to grow.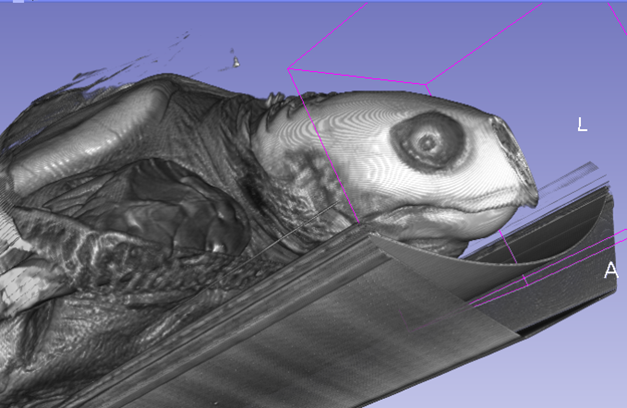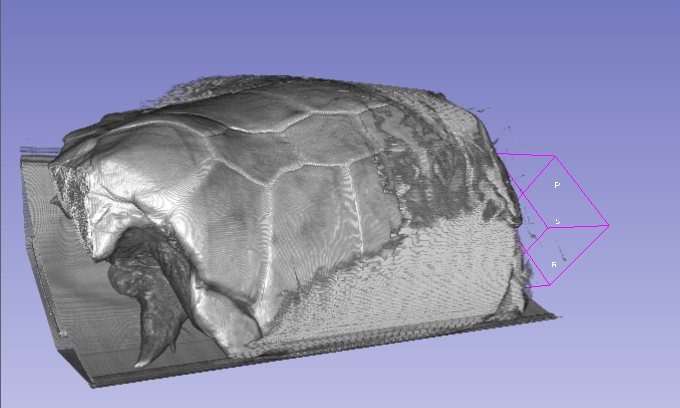 Year-round, the Loggerhead Sea Turtle lives in Birch Aquarium's Hall of Fishes' Magdalena Bay habitat. Every Tuesday and Thursday at 3:00 p.m., visitors can see the animal training and feedings required to help with her ongoing health care. For more information, or to purchase tickets, visit aquarium.ucsd.edu or call (858) 534-FISH.