UC San Diego now has SciFindern (or SciFinder-n), the new, streamlined SciFinder interface from CAS (Chemical Abstract Service) that covers the chemical literature, indexing millions of journal articles, patents, substances, and chemical reactions. The current SciFinder is not going away, so we have access to both versions at this time. Your SciFinder login will work with SciFindern; if you do not have a login, start here and follow the links to register for an account. You will need to use VPN (set to 2-step secured – althruucsd) to register for an account, then use VPN (for remote access) and your SciFinder username/password each time you use it. Saved searches and "Keep Me Posted" alerts can be transferred into SciFindern. As with SciFinder, use of SciFindern is restricted to current UC San Diego faculty, staff and students. No walk-in access is available, as per our license agreement.
SciFindern FAQ  |  SciFindern Quick Guide  |  SciFindern 2020 Webinars  |  SciFindern Training Resources (including webinar recordings)

For questions about SciFindern or SciFinder, or to set up training (class, research group, individual), please contact Teri Vogel (tmvogel@ucsd.edu).
What's New in SciFindern
New Features
Enhancements
"Search All" to search across the substance, reaction, and references databases.
Familiar searching options: booleans, truncation/wildcards, parentheses, e.g. (flavor OR odor) AND menthol
Combined keyword and structure searching.
Relevancy-based sorting of results.
Reaction search results grouped by scheme (same reactants and products).
Live History – edit and rerun past searches.
Additional filter functionality in the results: setting publication date ranges, searching within the filter categories along with frequency and natural order, substance role filter if chemical included in reference searches.
Clearer labeling to connect you to full-text articles, now with UC-eLinks included in the options.
Citation mapping to quickly see cited and citing articles.
Improvements in combined search functionality: two authors, author(s)/journal, author(s)/organization, two substance property data points.
Easy to keep up with new releases of SciFinder-n and get help from the account page.
Automatic deduping of CAS/Medline records (coming later this summer).
Ability to have multiple tabs running without getting kicked out of sessions.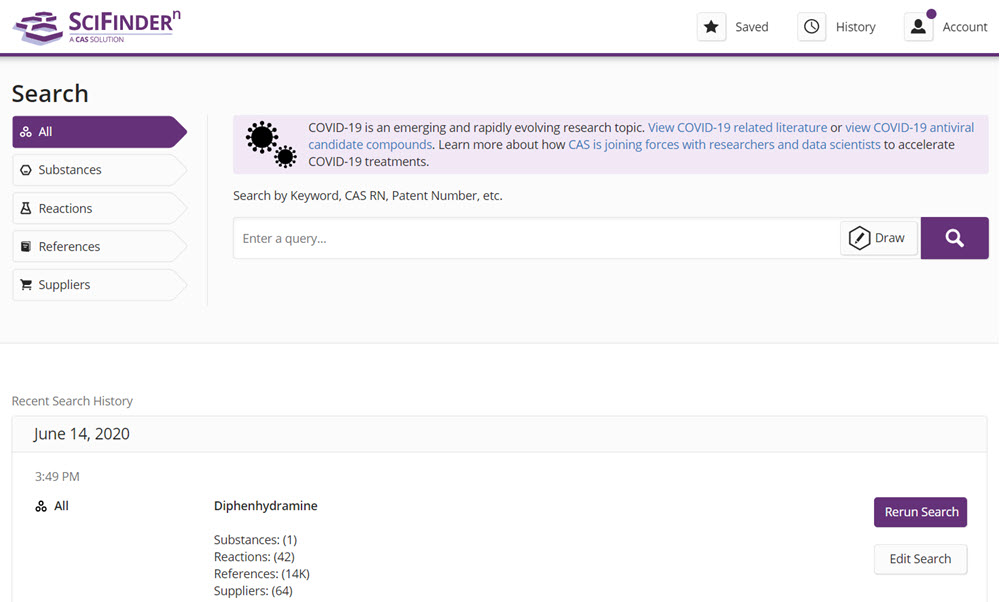 ---