To support the campus community during the closure of the Library buildings, chapters and articles from UC San Diego's print collections that are not available in HathiTrust are available via the Local Scanning Service. Scanning requests will be fulfilled by Library staff and delivered electronically to the email address provided on the request form within 2 business days of submission.
UC San Diego faculty, staff, and students can request scans from the Library's print collection free of charge.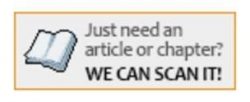 Requests can be made from the Library catalog, Roger. From the item's record in the Library catalog, click the scan button in the right navigation menu.

Send questions to LibraryBorrowing@ucsd.edu.
Additional Information:
Library Services during COVID-19