HackXR
36-hour VR/ AR Hackathon
February 23-25, 2018
CSE Building, UCSD (EDU3)
Application Deadline: Friday, Feb. 16
Register: hackxr.io
The student-run Virtual Reality Club at the University of California San Diego is launching the university's first-ever hackathon devoted exclusively to software programming for what they call 'Extended Reality' (XR) applications.
The 36-hour hackathon will run over three days from 7 p.m. on Friday, February 23 to 1 p.m. on Sunday, February 25. The event will take place in and around the VR Lab located in the basement of the Computer Science and Engineering (CSE) building on the UC San Diego campus. The cutoff for registration is February 16, 2018.
"Until now, most hackathons have focused on general software programming, while making room for some hackers who wanted to develop virtual-reality applications," said HackXR director Anish Kannan, a senior majoring in Computer Science and officer of the VR Club. "We thought it was time to devote an entire hackathon to the growing ranks of students who are developing not only virtual worlds for virtual reality (VR), but also for other points on the spectrum of virtual environments including augmented reality and mixed reality."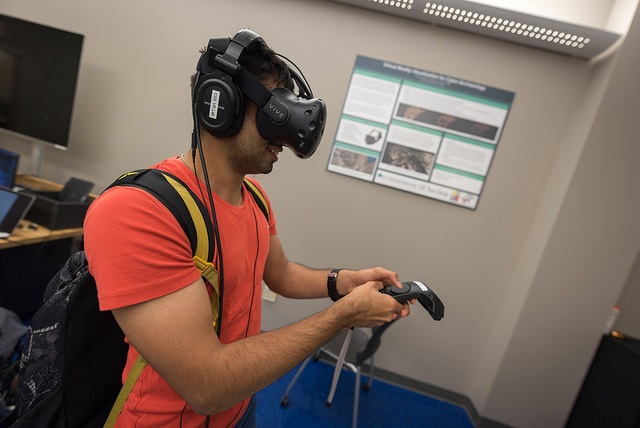 HackXR is open to students from any university (with ID), but organizers are planning to cap participation at 100 entrants because of a limit on the number of XR-related systems available to support all competitors. Available hardware, space, computers, and computer peripherals will include HTC Vives, Oculus Rifts, Microsoft Hololens, Windows Mixed Reality Headsets, Samsung Gear VRs, Google Daydreams and Google Cardboards (for viewing VR programs playing on a smartphone). Mentors will also be available to help participants get mixed-reality software including ARCore and ARKit working on students' smartphones.
Teams can have up to five members, but at the beginning of the hackathon, HackXR will hold a mixer event to match up students on teams that will average approximately four per team.
"We're aiming to have 18 teams using VR equipment and six teams using augmented-reality equipment," added Kannan. "We're bringing together our innovative community and providing all of the resources needed to create incredible XR projects."
In addition to the equipment, organizers will offer mentors, workshops and expertise from their veteran hackers throughout the event. As a result, even students who have no experience with coding or hackathons can sign up and participate in HackXR. Beginners should take advantage of early event workshops before getting started on a project, and mentors will be present 24/7 to answer their questions. (Beginners can also get a head-start before the hackathon by reviewing a list of tutorials on Unity, the organizers' preferred game engine. There are also slides from previous workshops, including a discussion of issues directly related to VR-specific design.)
Prizes will be handed out in the major categories, and judges will be asked to factor into their decisions four key criteria. They include: creativity/originality; design; the level of technical difficulty; and finally, 'awesomeness'. "Judges will be deciding whether a project has a wow factor," said HackXD director Kannan. "Each judge will be scoring that wow factor based on the team's pitch, playing the XR demo, and quizzing team members after the work is completed."