The beauty of Indian Ledger Art isn't just about depicting Native American history in vibrant colors and powerful compositions, but how it has influenced the next generation of Native American artists.
To Dwayne Wilcox, it's more than artwork. It connects him to his Native American culture and reaffirms his purpose in the community. Wearing black pants, a striped dress shirt that hangs loose on his frame, and his signature pork pie hat, Wilcox stands in front of an audience speaking softly about his art and gazing earnestly at the Ledger Art drawings in his exhibit.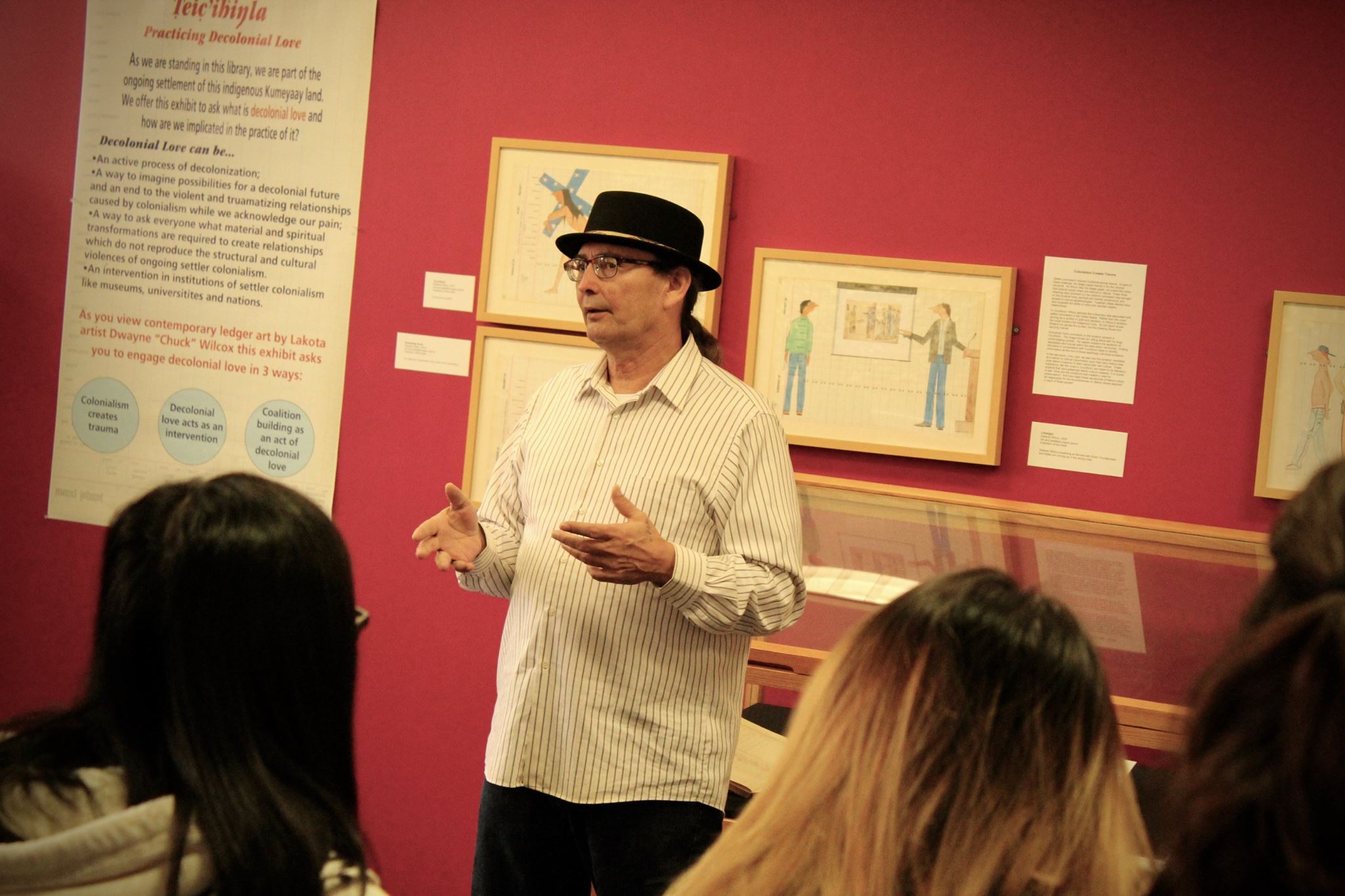 The Lakota Ledger artist met with students and spoke in November at a public gathering hosted by the Library in celebration of Native American Heritage Month. A small collection of Wilcox's contemporary ledger artwork was on view in an exhibition called Teíč'iȟ iŋla: Practicing Decolonial Love, curated by UC San Diego graduate students. Wilcox was joined by Ross Frank, associate professor of ethnic studies and director of the Plains Indian Ledger Art project (PILA).
Due to increased collector interest, more nineteenth-century ledger books are coming to light. However, sheets are sold individually for thousands of dollars, dispersing them on the market. In the last few years academics have been trying to reassemble book pages. Many of these fine examples of ledger art drawings are now accessible online. PILA has been working since 1995 to digitally preserve Plains Indian Ledger books under one platform to promote research and public access.
"Without trying, this digital project has brought UC San Diego about a million dollars' worth of original, nineteenth-century Ledger Art books. We have the third largest collection of complete ledger books in the country outside of the holdings at the Smithsonian museums," said Frank. "The Library's Special Collections & Archives has eight complete ledger books and another one is on its way. We have a fine example of the work that was done by the 28 artists of the 72 prisoners that were held in Fort Marion in 1875 during the Red River War."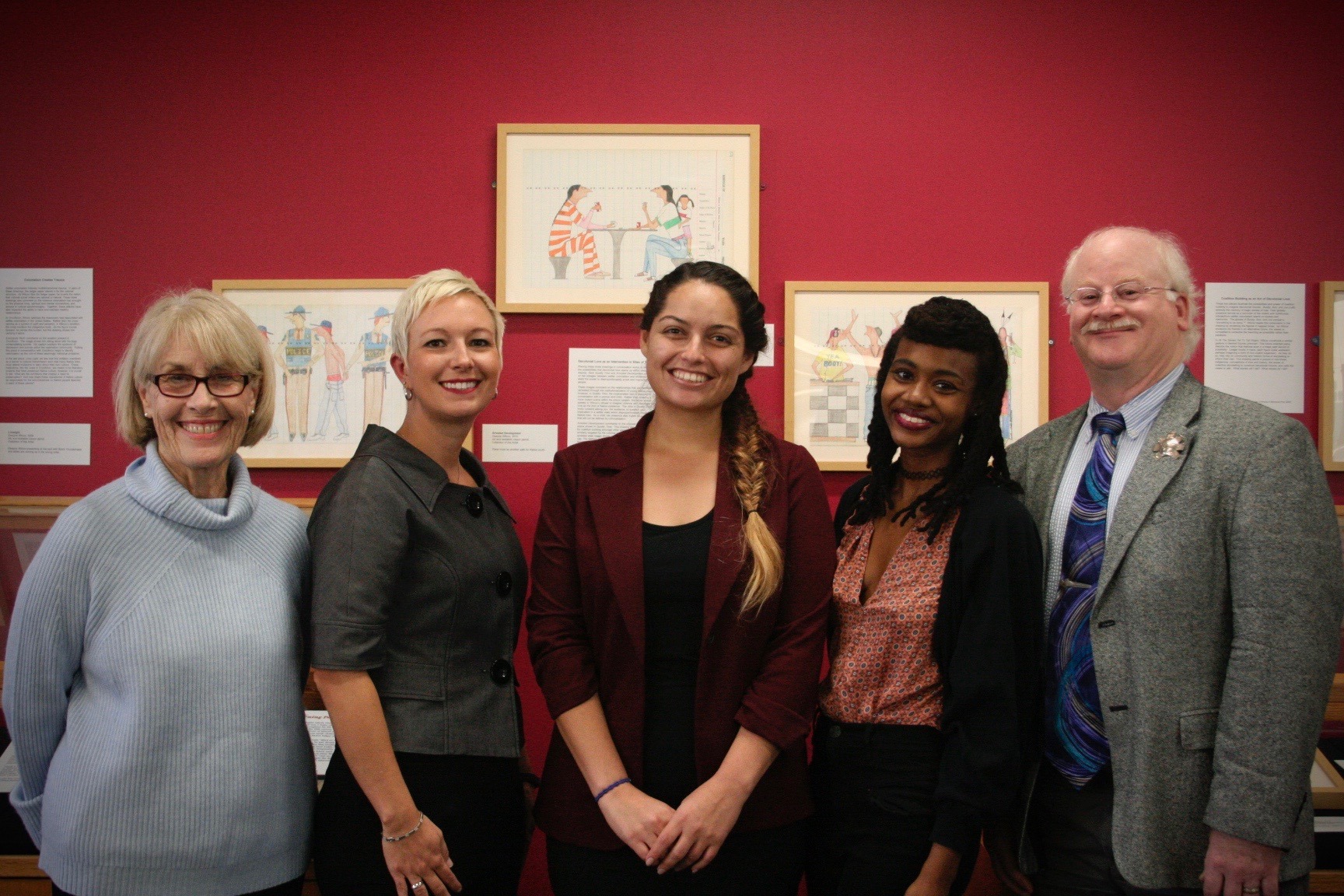 PILA provides graduate students pursuing a doctorate in Ethnic Studies and other programs with hands-on training in research, digital database, and web management. In addition, the Ethnic Studies department offers courses that give undergrads and graduate students the tools to design museum exhibits that incorporate indigenous knowledge.
"It was important to me that the exhibit we created not only be a visual experience but one that prompted critical discourse and engagement among visitors. In providing a space to write or draw thoughts and responses to the exhibit we hoped that a conversation could happen on these pages," said UC San Diego graduate student Alison Urban. "I love flipping through the book and seeing how the questions we posed through the presentation of modern and historical Ledger Art have activated students to connect with the notion of decolonial love."
The Library's physical collection of Ledger Art books continues to grow, albeit slowly, given their scarcity and cost. But they provide a vital teaching and research resource, and the Library will continue to work with Ross Frank and Ethnic Studies to develop and promote these unique cultural materials.