On a beautiful Saturday afternoon in April, more than 250 guests gathered together to celebrate one of the most notable people in the region; a prolific leader in San Diego's Asian American community and proud Triton, Sally T. WongAvery '75.  The day not only marked a milestone birthday for the guest of honor, but also provided an opportunity for the university to express gratitude for the generous gift she bestowed upon the UC San Diego Library.
Alongside her closest friends, family and acquaintances, WongAvery was recognized by university and community leaders for her support of the Library. The university formally celebrated her philanthropy through the renaming of the Biomedical Library to Sally T. WongAvery Library.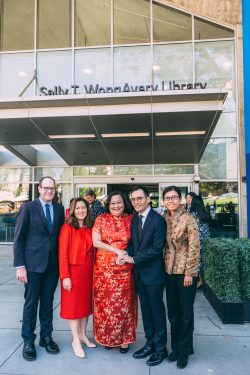 [ THE GIFT ]
On February 24, 2022, the Library proudly announced the WongAvery family's transformative $10 million gift that will ensure East Asian scholarship and collections remain a key part of the Library in perpetuity. This donation is among the largest dedicated library endowments to East Asian scholarship in North America.
The contribution added to previous gifts from the Avery-Tsui Foundation to enhance the Sally T. WongAvery Collection and establish the Natasha Wong Endowment for East Asian Collections and Sally T. WongAvery Librarian for Chinese Studies position. The Library plans to use the funds to further grow the Sally T. WongAvery Collection through the acquisition of new materials and digitization of rare and unique content donated by the alumna.
"I am very fortunate and proud to have the opportunity to give back to my alma mater. I believe it is paramount that children and young adults are given a good academic foundation in order to instill a lifelong love of learning," said WongAvery. "Providing a premiere academic research library, like the UC San Diego Library, with this kind of support to foster its East Asian collections is of great importance to students and scholars around the world. It is my hope that resources made available and possible by this endowment will allow researchers from various fields to glean information about the multicultural history and contributions of East Asian people."
[ THE DEDICATION ]
The dedication event was held on April 23, 2022, two months after the initial announcement, outside the newly-minted Sally T. WongAvery Library. Guests were welcomed with a performance by the San Diego Lucky Lion Dancers, the oldest traditional lion dance group in the Greater San Diego area. In addition to WongAvery's family and friends in attendance, she was joined by Avery-Tsui Foundation board members as well as UC San Diego leaders and trustees, all of whom thanked the alumna for her generosity and support of the university.
"My mother has come full circle," noted Natasha Wong during the ceremony. "Her passion for books, Chinese culture and education, and UC San Diego has led to one of the biggest achievements for her and our family."
Many of the state and region's elected officials also attended and gave remarks at the celebration, including Congressman Scott Peters, Congresswoman Sara Jacobs, County Supervisor Nathan Fletcher, San Diego Mayor Todd Gloria, District Attorney Summer Stephan, Councilmember Joe LaCava and Deputy Director General of the Taipei Economic and Cultural Office in Los Angeles Richard Lin.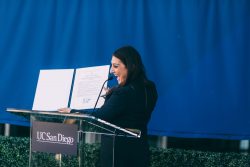 "With this donation to UC San Diego, Sally is continuing to expand her amazing legacy of service. Her philanthropy will ensure that East Asian scholarship and collections are a key part of UC San Diego Library for generations to come," said Congresswoman Sara Jacobs. "This is so important because the Chinese American community has always been so integral to our community here in San Diego, and now I am so excited for the thousands of young people who are going to come to UC San Diego and see their heritage represented here and learn about all the great things they have to be proud of, which is even more important than ever."
To conclude the program, the crowd joined together to wish WongAvery a year of good health, happiness and prosperity as she cut into her birthday cake. Afterwards, guests had the opportunity to congratulate her and her daughter Natasha and take an informal tour of the Library. A special exhibit inside the building's breezeway had been curated for the occasion by Exhibits Coordinator Scott Paulson '84 and Xi Chen, the Sally T. WongAvery Librarian for Chinese Studies. The display included items from WongAvery's personal library and a few of her favorite collectibles.
"My mother's first love was books and she deeply treasures the personal library she has built over the years with materials from all around the globe. It's like nothing you will find anywhere else," said Wong. "Ever since she was a little girl, my mom has collected books and transported them with her wherever she lived. They are irreplaceable and make up a special part of her, which is why her gift to the UC San Diego Library is so meaningful to her and our family as a whole. It bridges my mom's passion for books with the great respect and admiration she has for her alma mater and the world-class education UC San Diego provides."