On the floors of the UC San Diego's Geisel Library, happy rainbow racks dot the interior. Students rush around, sometimes sliding out a Chromebook from a loan station or returning one into the rack.
More than 70 Chromebook laptops have been deployed in the Library. Any student, faculty or staff member can check out these Grab and Go Chromebooks (via UC San Diego credentials). This self-checkout process allows students to use the laptop without needing to talk to a staff member or going to a checkout desk.
Geisel Library is currently under significant renovations. When planning for the space redesigned was underway, we asked how computing is used and what technology would complement existing service offerings. Statistically, desktop computers have been incredibly popular. This brought up additional questions in the midst of a recovering pandemic response. Did every student own a laptop? If so, would they bring it to campus at all times?
Looking at informal surveys, input from the Library Student Advisory Council, and usage statistics over the previous years, we knew that to meet the needs of the students who come into the Library, we would need a solution that was mobile and yet still had some of the traditional elements of a desktop computer. Thus, the Google Chromebook Grab and Go project was born.
The Grab and Go project team had to overcome some interesting challenges from the outset. The project is based on the open source offering from Google, customized for the UC San Diego Library, and the platform had to support a wide variety of requirements, including security concerns, scalability and ease-of-use for our users. This challenged the team to find the most functional value for most requested needs, which became the core strategy for the project. "The platform has provided tremendous value in being able to provide a lightweight service that we can adapt and use to understand the needs of our users," said Michael Stuart, Manager of Operations for the Library's Technology and Digital Experience Program.
We discovered that users needed a fast self-service offering for short-term use. Automated notifications are sent to users who have kept Chromebooks for longer periods than expected and query their return, paired with self-service return. Users have been incredibly responsive to the automated reminders, returning the Chromebooks as they are able. "The flexibility of this approach has allowed users to keep Chromebooks longer when needed, but balances the need to have units available in the rack for new checkouts," said Allison Flick, Manager of Service Operations for the Library's Technology and Digital Experience Program.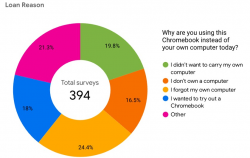 The beta program began with a soft launch on December 6, 2021. Since then, the statistics show 444 distinct users with 1,126 total checkouts. A survey of the checkouts shows a four-way split for the reason of the checkout. Nearly 20% either don't own a computer, forgot their computer, didn't want to carry a computer, or simply wanted to test out the Chromebooks.
The Grab and Go team continues to engage with users and solicit feedback to better understand the diverse needs of its users and to think strategically about future mobile computing offerings.
Many thanks to the contributors of this project for their excellent work!
Allison Flick, Library System Administrator, Manager of Service Operations
Juliana Gorney, Library System Administrator
Mack Chambers, Library System Administrator
Billy Knorr, Library System Administrator
Sami Gholam, Library Support Specialist
Kirk Leman, Google Domain Administrator
Michael Stuart, Library Manager of Operations
Tim Marconi, Library Director of Technology and Digital Experience
Onyx, Implementation Partner
Written by Jessica Hilt, UC San Diego Library's Manager of Applications Development, for the UC IT Blog.