When
Sep 30, 2020
12:00 pm - 1:00 pm
A Geisel Library 50th Anniversary Signature Event
Registration is now open for the Library's 20th Annual Toy Piano Festival, a virtual event for listeners of all ages.
Playing new works for toy pianos and songs from "The Cat in the Hat Songbook," festival director Scott Paulson will be joined by his toy piano colleagues Sue Palmer, Andrea Wingen, Kenneth Herman, Barbara Scheidker, Samara Rice, Christian Hertzog, Peter Flynn, Alex Segal, Gail Gipson, Kiera Sullivan, Linda Kernohan, Philippe Robles-Fradet, Jim Chute, Daria Binkowski, Janice E. Kelsh, and Judy Schulman.
Many of the premieres at this year's festival will merely be 20 measures or 50 seconds, in tribute to the 20th anniversary of the festival and the upcoming 50th anniversary of our Geisel Library building.  
UC San Diego's history with toy pianos dates back to 1966 when composer Robert Erickson, a founder of the university's music department, wrote a piece for toy pianos and bells that premiered on California's PBS television stations. The first composer to write a "serious" work for toy piano was John Cage, who visited campus on several occasions, including a two-week stay as a Regents lecturer in the 1980s. Peter Flynn and Scott Paulson, who were on campus for Cage's lectures, will perform a Cage tribute piece at this year's festival.
Fun facts: 
In 1999, a missing service bell at a Geisel Library help desk spawned a long streak of toy piano activity here at UC San Diego. The bell was replaced with a playful tiny keyboard and a sign: "Please play on toy piano for service." And play they did!

The toy piano collection at Geisel Library consists of actual instruments, commissioned scores, and extant literature and recordings. Most of the commissioned scores in the collection are composed by UC San Diego alumni. 

In May 2001, the Library of Congress issued a subject heading and call number for toy piano scores because of the activities at Geisel Library. The collection can be viewed under the call number

M 175 T69

.
---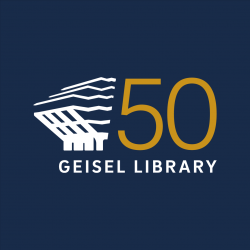 All 50th anniversary signature events are complementary. Donations are welcome, and a gift of any amount grants membership to Library Associates, a group comprised of alumni, faculty, staff, parents, and dedicated community members who recognize that the Library is at the heart of UC San Diego's academic mission. More information about the Geisel Library's 50th anniversary celebration can be found at geisel50.ucsd.edu.
Contact:
Ellysa Lim
geisel50@ucsd.edu