When
Mar 2, 2022
5:00 PM–6:15 PM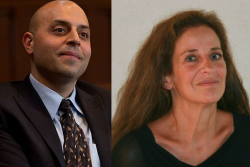 When the Second World War came to an end, Berlin, the capital of the Third Reich, lay in ruins. Few contemporaries, if any, could have anticipated that 70 years later, Berlin would boast large diaspora communities of Palestinians and Israelis who have made a home among Germans. 
In "The Moral Triangle," Sa'ed Atshan and Katharina Galor draw on ethnographic fieldwork and interviews with Israelis, Palestinians and Germans in Berlin to explore the fraught relationship between the three groups in the context of official German policies, public discourse and the private sphere. 
Atshan is Associate Professor of Peace and Conflict Studies at Swarthmore College and the author of "Queer Palestine: Empire of Critique." Galor, an art historian and archaeologist specializing in the visual and material culture of Israel-Palestine, is currently the Hirschfeld Senior Lecturer of Judaic Studies at Brown University. Her publications include "The Archaeology of Jerusalem: From the Origins to the Ottomans" (co-authored with Hanswulf Bloedhorn) and "Finding Jerusalem: Archaeology Between Science and Ideology." 
This event will be introduced by UC San Diego professor of history Frank Biess with DAAD visiting professor Jörg Neuheiser providing comments.
Sponsor: Laurayne Ratner
Contact:
Yekta Mohammady
yemohammady@ucsd.edu
Registration:
https://hlhw-mar22-moral-triangle.eventbrite.com