When
May 25, 2022
5:00 pm - 6:30 pm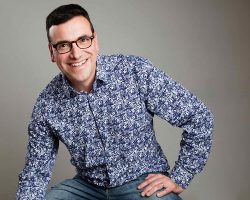 How does the concept of space enhance our understanding of the Holocaust? In this talk, British historian Tim Cole tells the story of the Shoah through an exploration of the landscapes that victims moved across in Europe. His exploration of the "Holocaust landscapes" shines a powerful light on the geographic dimensions of the Shoah.
Cole earned his Ph.D. in geography from the University of Cambridge with a study of the spatiality of ghettoization in Budapest and is a professor of social history at the University of Bristol, UK. A pioneering scholar of the "spatial turn" in Holocaust studies, he is involved in several collaborative digital humanities and creative technologies projects, including the Holocaust Geographies Collaborative. His many publications include "Holocaust City," "Traces of the Holocaust," and "Holocaust Landscapes."
Registration is required.
Please Note: We are striving to host this event in-person with a limited number of seats as well as livestreaming the talk for those who wish to attend virtually. However, the in-person event is subject to change based on campus and public health guidance. Any changes to the in-person event will be communicated via email at least 24 hours prior to the event. Please add ucsdlibrary@ucsd.edu to your safe sender list to prevent the message from going to your junk/spam folder.
When registering to attend this event, please select either in-person attendance or virtual attendance, but not both. If you register to attend in-person, you will receive a link to the virtual event in case your plans change and you are no longer able to attend in-person. Due to the limited number of seats, which will be given out first come, first serve, we kindly ask that you email ucsdlibrary@ucsd.edu to cancel your in-person reservation.
All health and safety measures will be observed, based on current campus safety protocols at that time.
Thank you in advance for your patience and flexibility.
Sponsor: July Teper Galper with support from the Department of Urban Studies and Planning
Contact:
Yekta Mohammady
yemohammady@ucsd.edu
Registration:
https://hlhw-may22-landscapes.eventbrite.com