When
Aug 30, 2022
6:30 pm - 7:30 pm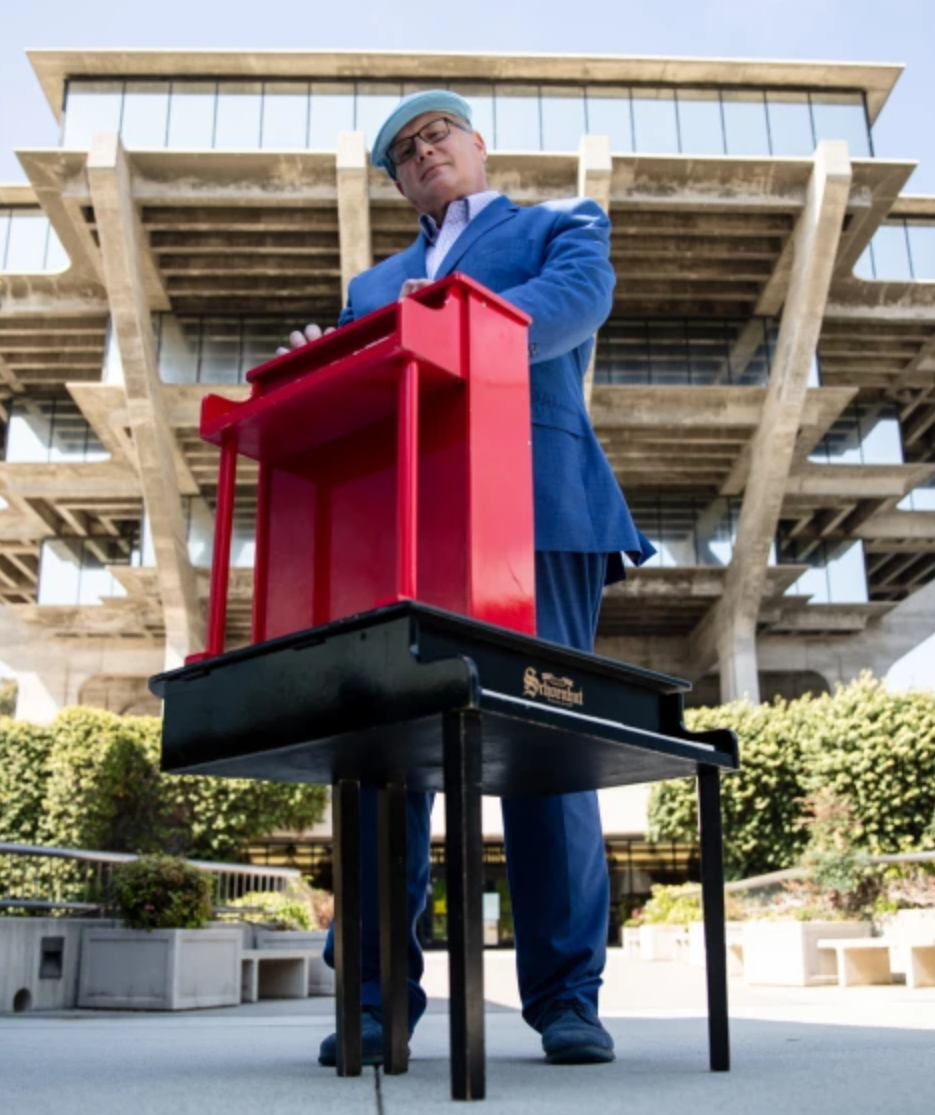 Here at the Library, toy pianos have been celebrated with great fanfare on or around September 5 to honor the birthday of composer John Cage. Cage was the first composer to write a "serious" piece for toy piano and also guest lectured at UC San Diego when Scott Paulson, the festival founder, was an undergraduate:
"John Cage's approach to music made quite an impression on me as a young student. Cage's toy piano sonata is just one of the many surprising, long-lasting feats of magic from this great American composer. Somehow, I'm still hosting an Annual Toy Piano Festival in tribute to him!"
This year marks 22 years of celebrating a big passion for tiny music. 
For this year's composers, Scott Paulson will be joined by Sue "Queen of Boogie-Woogie" Palmer, Kay Etheridge, Satomi Saito, Christian Hertzog, Nadiyah Albee, Kenneth Herman and Barbara Scheidker. 
The UC San Diego Library is also the home of "The Toy Piano Collection at Geisel Library." The Collection at Geisel Library consists of actual instruments, recordings, extant literature and commissioned scores. In 2001, because of the Toy Piano Collection's activities, the Library of Congress issued a special call number and subject heading for Toy Piano Scores: M 175 T69.
In preparation for that festival, composers visit the Library and pick a specific toy piano from the collection, and a new piece is written specifically for that instrument. Some toy pianos only have nine notes, some three octaves–so each piece has its own special charm and special limitations. In addition to exciting modern fare, some famous musical clock tunes from centuries past will give a timely nod to composers of earlier eras.
As with every year, the Annual Toy Piano Festival makes a special stop at the San Diego Central Library's Neil Morgan Auditorium. For more information on the schedule of festival events at the Central Library can be found on their Concert Series webpage. The festival is free to the public and all ages are welcomed, easily making the event a family-favorite. 
Partners: San Diego Central Library
Contact:
Scott Paulson
spaulson@ucsd.edu