Thank you to everyone who participated in our "Create Your Own Geisel" 50th anniversary contest. We received so many clever and eye-catching recreations of our beloved Geisel Library!
The public has voted via likes and comments on our social media pages, and the winners have been chosen! The 11 winning submissions are below:
Note: To view larger versions of these images, please visit our Facebook post here.
Students:
1st Place Winners: Donald Liang & Terry Feng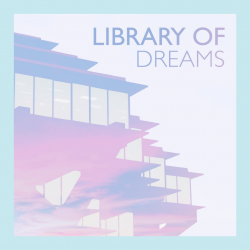 Music – https://ffm.to/libraryofdreams
"'Library of Dreams' features 8 tracks correlating to the 8 floors of Geisel Library. Recreating the different environments and moods of each floor, the album is a sonic tour of the library, as well as beats to help you focus, study, or simply just relax. Go for a Study Grind on Floor 6, Meme and Chill with friends on Floor 1, or take a break and get some Fresh Air on Floor 3. It's Geisel, the Library of Dreams."
2nd Place Winner: Roxanne Perez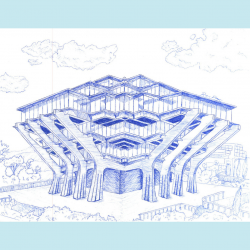 "This blue ink drawing was made right after I saw a charcoal drawing of Geisel when I was visiting my TA's office hours. I love to draw in blue ink and every time I look at my own drawing of Geisel, I get hit with so many memories and emotions that I become more proud of being a UC San Diego student"
3rd Place Student Winners (alphabetical order):
Haley Amin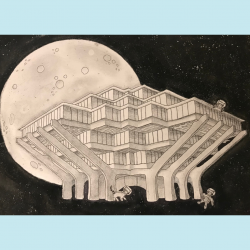 "Raccoons take Geisel to the moon. I used pencil, pen, and chalk pastel."
Hannes Du
"Over Winter Break, I designed and built this Geisel Library model using LEGO bricks. I thought it fitting to create bookends to represent the library itself and the books within."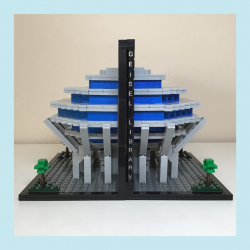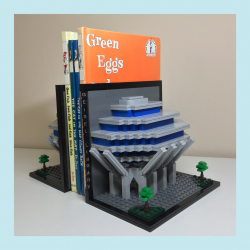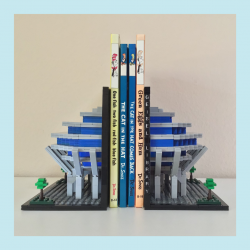 Christina Mai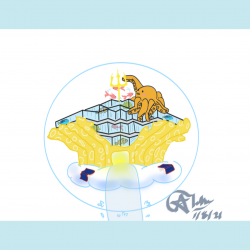 "'Geisel in the Water at UC San Diego': Follow the waterfall to the entrance of an aquatic Geisel, a place littered with books and knowledge for a school of fish"
Frederico Molina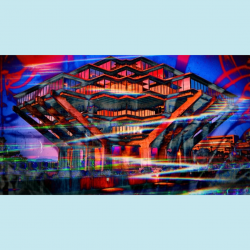 "I added some effects and layers. I wanted to emulate retrowave aesthetics. Something out of an album cover.
You know, the type of music that takes you somewhere else. Whether it be cruising at night through the city or speeding on a long desert highway."
Hanyi Wang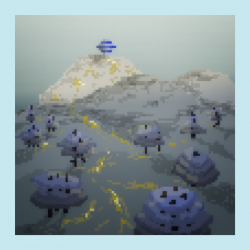 "'Geisel and Everyone': As a second-year undergraduate student, I still remember the weird-looking but unique image of Geisel when I first got into the UCSD campus.
In the HUM course at the Revelle college, I studied Milton's Paradise Lost which linked back to Geisel Library and a metaphor behind it — the Tree of Wisdom, the Snake, the Paradise… Near the snake path, the book statue writes:
'And wilt thou not / be loath to leave / this Paradise, / but shalt possess a Paradise within / thee, happier far. — Paradise Lost'
Though we will leave this 'paradise' one day, there would be 'an inner paradise' accompanying us. In some sense, we all 'create our own Geisel.'
This work is a pixel made on my computer, using UCSD's theme colors (yellow and blue) and the imagination of a fictional world with Geisel and everyone in the form of 'trees.'"
Faculty & Staff:
1st Place Winner: Renee Chin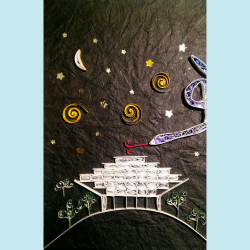 "Approximately postcard size, this art piece was originally commissioned by Scott Paulson for the "Short Tales from the Mothership" library event. It's a sci-fi imagining of Geisel Library, rendered using an art form known as paper quilling. It's inspired by the idea that Geisel looks like a spaceship, timeless and classical. On a literal level, the snake is a manifestation of Alexis Smith's Snake Path. On a metaphorical level, snakes symbolize rebirth, transformation, and eternity–like a snake, Geisel Library has consistently reinvented (rebirthed/transformed) itself and stayed relevant on an ever-evolving campus, and will do so for another 50 years (or eternity)."
2nd Place Winner: Corey Fujikawa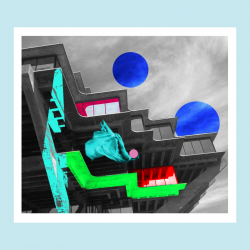 "'Baldessari's Geisel': I reimagined Geisel Library through the lens of John Baldessari, who was one of the first faculty members for UCSD's newly formed art program in 1968. Baldessari, a San Diego native, may be known best by Geisel Library guests with his "READ/WRITE/THINK/DREAM", which transforms the entryway to the library through stained glass and images of students. I was introduced to Baldessari's fun, and colorful artwork at a young age through my dad, and still appreciate his works today. Unfortunately, John passed away in January 2020, and this work is an homage to the late artist.
Original photo credit: Wikipedia user Sarahmirk"
Alumni & Community Members:
1st Place Winner: Janelle Louie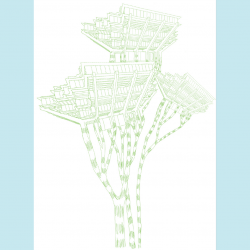 "Digital drawing of Geisel library as a tree with a Lorax-like tree trunk. Made with program Procreate on iPad using Apple pencil."
2nd Place Winner: Kevin Trieu
"Origami Geisel Library, made from a 8.5 x 8.5 inch uncut square of copy paper. Folded into a 24 x 24 grid, then collapsed without tape or glue."