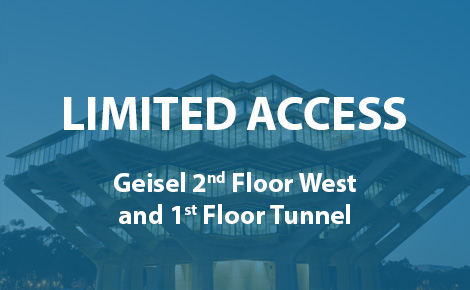 Posted On: September 9, 2016
Please be advised that from Monday, September 12 – Friday, September 23, 2016, carpet will be replaced on the 2nd floor in Geisel West (G2W) and in the 1st floor computer tunnel. Scope for the 2nd floor is from the bank of computers just north of the Research Assistance Desk (RAD) to Special Collections (including the Seuss Room and Seuss Room foyer).
G2W carpet installation will begin near RAD and move south. Installation will occur in multiple phases to reduce impact on accessing services and collections. Research Assistance will remain available via the Information Desk.
We apologize in advance for the inconvenience. Please contact Jason Schulz (jtschulz@ucsd.edu) for more information.