"Dr. Seuss's Boids & Beasties"
Monday, June 25-Sunday, October 7, 2018
Geisel Library, Main Floor
The UC San Diego Library is featuring its summer exhibition of selected original drawings by Theodor Seuss Geisel, better known to his reading public as Dr. Seuss, on the main floor of Geisel Library through Sunday, October 7.  Dr. Seuss's "Boids & Beasties" showcases his whimsical and fantastical creatures and creative talent.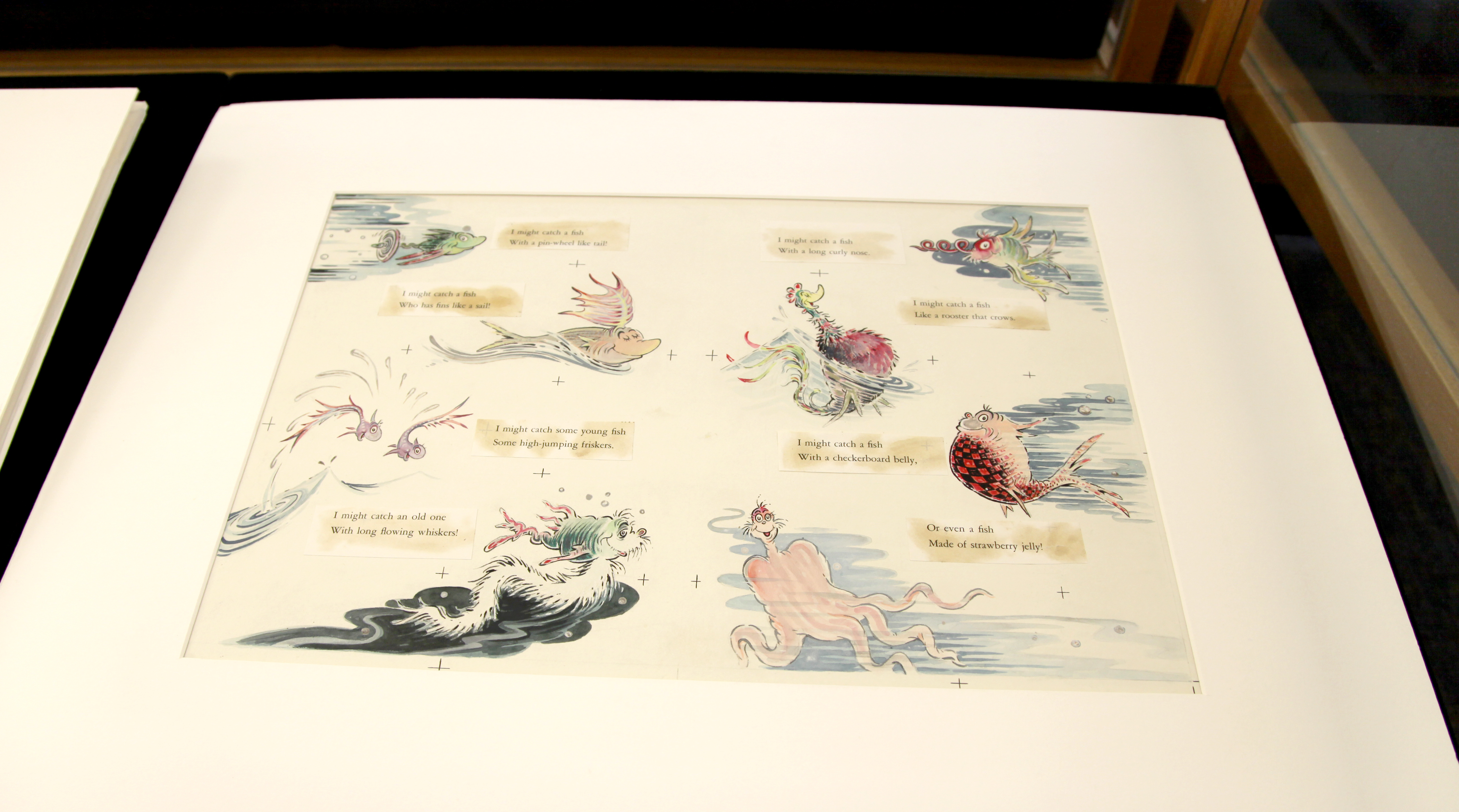 Dr. Seuss was born on March 2, 1904. A long-time resident of La Jolla, his personal collection of drawings, scrapbooks, sketches and other works were donated to UC San Diego after his death in 1991, a gift of his widow, Audrey Geisel.
Beloved by millions of children and grown-up children, Dr. Seuss books have entertained and educated for more than a half a century. In fabricating tales and bringing fantastic creatures to life in the imaginations of young and old alike, he has given is the Cat in the Hat, Gertrude McFuzz, the Grinch, Yertle and the Turtle, The Lorax, the Sneetches and many more such memorable characters. His style of flamboyant, colorful illustrations and clever but simple rhymes has made his work recognizable throughout the world.
Less well known perhaps are Theodor Seuss Geisel's early careers as an advertising and commercial artist in the 1920s and 1930s, and as an editorial cartoonist in the 1940s. Dr. Seuss's "Boids and Beasties" draws from UC San Diego's Dr. Seuss Collection to illustrate all aspects of Geisel's work.
"Boids & Beasties" is Geisel's own term for his fantastical creatures.