9)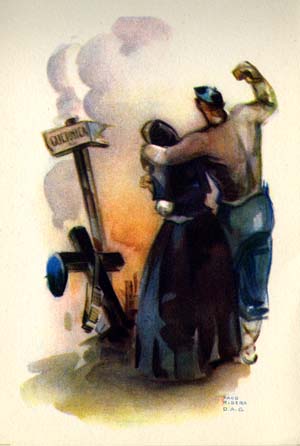 En Guernika se ha realizado el ensayo más completo de guerra total.
A Guernica, en a fait l'épreuvre la plus complète d'une guerre totalitaire.
In Guernica they carried out the most complete experiment of total war.
---
In this image of the aftermath of the Guernica bombing, two figures stand in angry reflection on the attack. The cross shaped tombstone bears a beret and bandolier from a fallen gudari. As with the inscription on the preceding postcard, there appears a conscious effort to employ the legacy of Guernica bombing for military purposes.