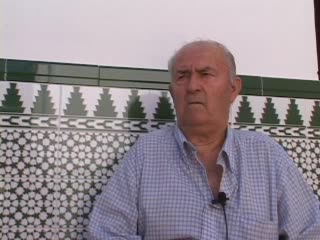 Video de entrevista
Título: Testimony of Severiano Muñez Castaño, Interview with Jodi Eisenberg and Viviana MacManus; July 30, 2008.
Publicación: Madrid, Spain, Spanish Civil War Memory Project, 2008.
Notas: Severiano Muñez Castaño's testimony is in Spanish without subtitles. The testimony was recorded in Madrid.
Resumen: Severiano Muñez Castaño nació en 1927 en Zalamea la Real, un pueblo rural en el sur de España. Severiano recuenta que desde temprana edad él y su familia de siete hermanos trabajaban en las minas. Explica que durante la Guerra Civil, las tropas de Franco aterrorizaban el pueblo a través de ejecuciones masivas. Severiano relata que de niño fue testigo de las ejecuciones de personas inocentes. Describe el miedo y el hambre que vivió durante la guerra y cuenta de la huída de su familia a las montañas por razones de seguridad. Severiano habla de su regreso a las minas donde trabajaría por los próximos cincuenta años.
Citar como: Muñez Castaño, Severiano. Testimony of the Spanish Civil War and the Francoist Dictatorship. University of California, San Diego, 2008.