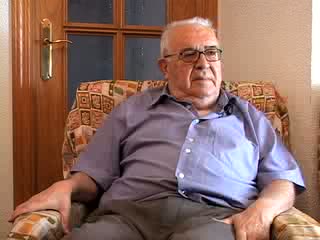 Videos de entrevista:
Parte 1
Parte 2
Parte 3
Parte 4
Parte 5
Parte 6
Parte 7
Parte 8
Parte 9
Parte 10
Título: Testimony of Victor Díz Cordiel, Interview with Scott Boehm and Miriam Duarte; May 27; June 5; June 12, 2009.
Publicación: Madrid, Spain, Spanish Civil War Memory Project, 2009.
Notas: Víctor Díaz Cordiel's testimony is in Spanish without subtitles. The testimony was recorded in his home in Madrid.
Resumen: Víctor Díaz Cordiel nació en 1935 en Fuensalida, Toledo. Víctor recuenta que su padre fue miembro de la Guardia de Asalto de la República durante la Guerra Civil y estuvo detenido de 1939 a 1945. Describe haber sido un miembro clave del Partido Comunista de España en Madrid, y cuenta sobre sus actividades políticas clandestinas. Víctor explica que fue encarcelado tres veces a resultado de su militancia. Estuvo recluido en Carabanchel, Soria, y Segovia entre abril de 1965 y julio de 1972. Participó en dos huelgas de hambre importantes mientras estuvo en la cárcel. Víctor relata que después de ser dejado en libertad, fue detenido y encarcelado brevemente dos veces antes del Proceso 1001 y la muerte de Franco.
Citar como: Díaz Cordiel, Victor. Testimony of the Spanish Civil War and the Francoist Dictatorship. University of California, San Diego, 2008.