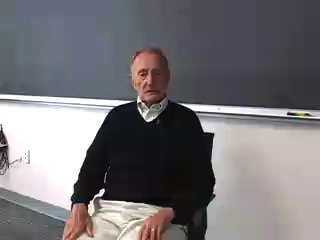 Interview video
Title: Testimony of Julián Llerandi, Interview with Luis Martín-Cabrera and Scott Boehm; May 30, 2008.
Published: La Jolla (California), United States, Spanish Civil War Memory Project, 2008.
Notes: Julián Llerandi's testimony is in Spanish without subtitles. The testimony was recorded in the de Certeau Room of the Literature Department at the University of California, San Diego. A journalist from the newspaper Mi Enlace was present during the interview.
Summary: Julián Llerandi was born in Llanes, Asturias. Julián had nine siblings and his father owned a small store. He recounts that his family did not have any political affiliation, but they were generally anticlerical and supported the fishermen's union. Julián explains that his family fled to Barcelona during the Asturias 1934 October Revolution. During the Civil War, his three older brothers fought to defend the Republic. Julián notes that one of them was wounded and imprisoned in Orán, another died on the frontline at age eighteen, and the other was executed by Franco in 1947. His father was detained in a concentration camp in Argelès-sur-Mer, France. Julián recalls crossing the French border at the end of the war with his mother and some of his siblings. He tells of staying in Suisse during the Vichy government and subsequently being relocated to the United States thanks to the One Thousand Children Law. With the assistance of the Quakers, Julián was placed with a foster family in Madison, Wisconsin. He speaks about moving to Venezuela to join his family and being imprisoned by the dictator Pérez Jiménez. Julián relates that after being liberated, he returned to the U.S. and was drafted into the army. Julián discusses the importance of recuperating the memory of the atrocities committed by Francoist forces during the war and the dictatorship.
Cite as: Llerandi, Julián. Testimony of the Spanish Civil War and the Francoist Dictatorship. University of California, San Diego, 2008.