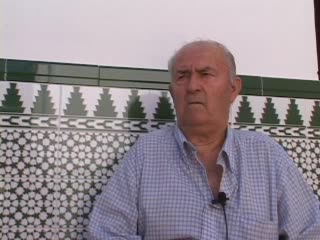 Interview video
Title: Testimony of Severiano Muñez Castaño, Interview with Jodi Eisenberg and Viviana MacManus; July 30, 2008.
Published: Madrid, Spain, Spanish Civil War Memory Project, 2008.
Notes: Severiano Muñez Castaño's testimony is in Spanish without subtitles. The testimony was recorded in Madrid.
Summary: Severiano Muñez Castaño was born in 1927 in Zalamea la Real, a rural town in the south of Spain. Severiano recounts that from a young age, he and his family of seven brothers worked in the mines. He explains that during the Civil War, Franco's troops terrorized the town through mass executions. Severiano relates that as a child he witnessed the executions of innocent people. He describes the fear and hunger he experienced during the war and speaks of his family's flight to the mountains for safety. Severiano discusses his later return to the mines where he would work for the next fifty years.
Cite as: Muñez Castaño, Severiano. Testimony of the Spanish Civil War and the Francoist Dictatorship. University of California, San Diego, 2008.