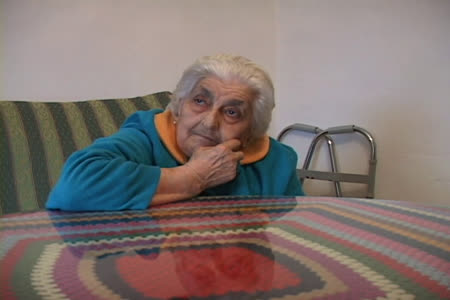 Interview video
Title: Testimony of Ana Fernández Morelo, Interview with Scott Boehm and Miriam Duarte; February 22, 2009
Published: Sorihuela del Guadalimar, Spain, Spanish Civil War Memory Project, 2009.
Notes: Ana Fernández Morlero's testimony is in Spanish without subtitles. The testimony was recorded in Sorihuela del Guadalimar.
Summary: Ana Fernández Morlero describes her parents as hardworking honest people who were not involved in politics. Ana narrates that when the Civil War began, the Nationalists expelled her family from the country, confiscated their animals, and led them to the town of Céspedes at gunpoint. She recounts that her family slept at the old schools but felt immense fear upon seeing worm and blood-drenched clothes hanging there, so they left to Los Fermines farm and later to some land parcels before returning to the town. Ana explains that her father was taken to war and her mother worked to support the family. She tells that her mother suffered tremendously and walked to Linares to take food to her father. Ana remembers that after the war her father worked as a muleteer. She relates that they were very poor and the women in her family worked as servants and washed clothes for a living. Ana retells that her mother died of a hepatic colic, noting that the doctor refused to help her and they could not report him because all of the Francoists were accomplices. Ana recalls that her husband worked in Switzerland for six years to support their family. She discusses the 1981 coup d'état. Ana comments that much did not change after Franco's death, but the situation began to improve during Felipe González's presidency.
Cite as: Fernández Morelo, Ana. Testimony of the Spanish Civil War and the Francoist Dictatorship. University of California, San Diego, 2008.