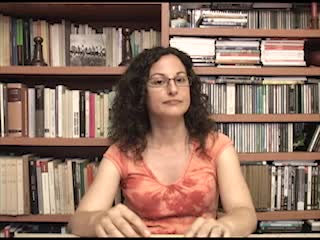 Interview video
Title: Testimony of Mercedes Iglesias Serrano, Interview with Luis Martín-Cabrera and Andrea Davis; July 7, 2010.
Published: Barcelona, Spain, Spanish Civil War Memory Project, 2010.
Notes: Mercedes Iglesias Serrano's testimony is in Spanish without subtitles. The testimony was recorded in her apartment in Barcelona, Spain.
Summary: Mercedes Iglesias Serrano relates that her grandparents lived through and fought in the Civil War. Mercedes explains that her immediate family's history is filled with silences concerning her grandparents' experiences. She recounts the struggles she has faced in her attempts to recuperate her grandparents' history. Mercedes reconstructs stories about her grandparents to the best of her current knowledge.
Cite as: Iglesias Serrano, Mercedes. Testimony of the Spanish Civil War and the Francoist Dictatorship. University of California, San Diego, 2010.