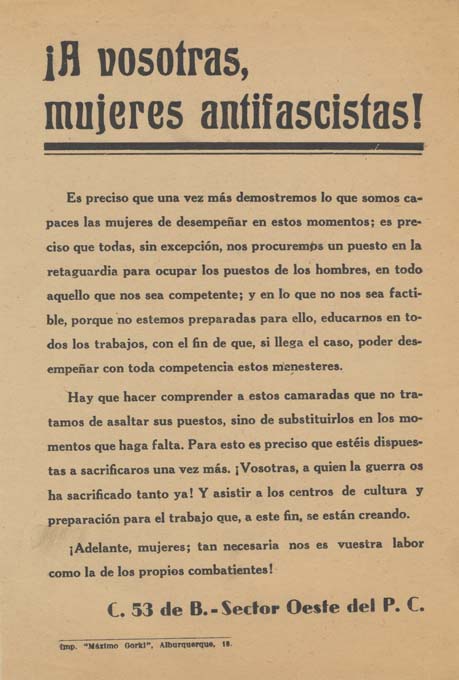 Title: "¡A vosotras, mujeres antifascistas!"
Title translation: "To you, Antifascist Women!"
Author/Publisher Group: Partido Comunista de España (Sector Oeste) / Célula 53
Place of Publication: Madrid
Publication Date: c. 1936-1939
Label/Document Translation:

"It is necessary that we demonstrate one more time that we are women capable of carrying out our duties in these moments; it is necessary that all, without exception, obtain a position in the rearguard in order to fill the positions of men, in all that which is sufficient for us; and in that which is not feasible for us, because we were not prepared for it, [it necessary for us] to educate ourselves in all those jobs, with the goal that, if the situation arises, to be able to carry out these duties with total competence. Our comrades must be made to understand that we are not trying to attack their positions, but to substitute for them in the moments, which they are missing. For this it is necessary that you are disposed to self-sacrifice one more time. You, from whom the war has demanded so much already! Attend the centers of culture and job preparation, which were created for this end. Onward, women; you labor is as necessary to us as that of our own soldiers!"