The Library offers whiteboards in a variety of sizes to suit your study needs. You can find individual whiteboards stored on the walls for use, tables that are actually whiteboards, or larger whiteboards on wheels at Whiteboard Parking Stations. No need to check them out.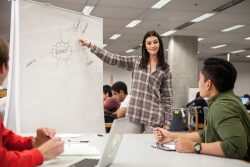 The Active Learning Lab, located in Geisel's East Commons (Floor 2), offers whiteboards along the walls and movable whiteboard tables. This room is well-suited for collaborative study and group or individual brainstorming!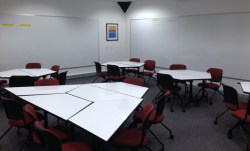 You can check out whiteboard kits from Geisel's Front or East Commons Desks or the Biomedical Library's Front Desk using your student ID. Each kit comes with EXPO markers and an eraser. These kits are checked out for 24 hours at a time, and yes, you can leave the building with them.
Search "whiteboard kit" in the online catalog to check availability.