When
Apr 15, 2020
5:00 PM–7:00 PM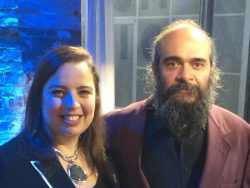 This event has been canceled in accordance with Governor Gavin Newsom's stay-at-home executive order issued March 19, 2020.  All spring quarter events must be postponed or cancelled until further notice due to the potential transmission of Covid-19, or Coronavirus.
Your involvement is very important to us, however, our first priority is the health and safety of our students, faculty, staff and visitors. For campus-wide updates, please visit the UC San Diego Coronavirus website.
At the height of World War II, a team of Soviet scholars embarked on an ambitious goal to collect recently written songs dealing with the Holocaust. Lost until the early 1990s, these songs were rediscovered and recorded with an ensemble of recognized soloists. Thanks to the painstaking labor of Anna Shternshis and the talent of Psoy Korolenko, audiences worldwide can now enjoy and reflect upon this treasure trove of songs that offer a precious glimpse into an unfolding tragedy and the artistic reaction to it. Shternshis is the Al and Malka Green Professor of Yiddish and Diaspora Studies at the University of Toronto. Psoy Korolenko is a prominent singer-songwriter and philologist who holds a Ph.D. in Russian literature. In 2018 their joint project Yiddish Glory was nominated for a Grammy.
The Lou Dunst Memorial Lecture
Contact:
Ellysa Lim, (858) 534-1183, e7lim@ucsd.edu

Registration:
https://hlhw_yiddish_glory.eventbrite.com