When
Jun 9, 2020
5:00 pm - 7:00 pm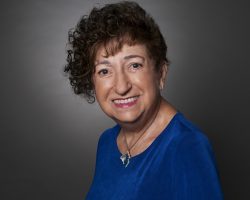 This virtual event will be held via Zoom. Registration is now open, see link below. 
As a child, Gabriella Karin was separated from her parents and placed in a Slovakian convent for three years. Although physically safe, she did not emerge unscathed. Suppressed memories of her past came flooding back once she began to fashion sculptures related to the Holocaust later in life. Her journey offers important insight into trauma and how creativity can be used as a tool to process memories of oppression, persecution, and loss.
Karin is a docent at the Los Angeles Museum of the Holocaust and participates in the Righteous Conversations Project which unites survivors and students through art.
Sponsor: Daniel and Phyllis Epstein
Partners: Jewish Studies Program
Contact:
Yekta Mohammady
yemohammady@ucsd.edu
Registration:
https://ucsd.zoom.us/webinar/register/WN_X-Mi6MRGQnW1jZ90W2QTOw