When
Oct 14, 2020
5:00 pm - 6:00 pm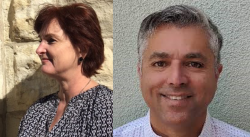 What do you do when you discover that your grandfather, whom you viewed as a national hero, was a Nazi collaborator and mass murderer? This was the question confronting Silvia Foti, an American-Lithuanian from Chicago, after unearthing the shocking truth about her grandfather Jonas Noreika. Foti began a campaign to set the historical record straight alongside Grant Gochin, a Lithuanian Jewish American whose family was at the receiving end of Noreika's murderous actions. At this live virtual event, the descendants of the perpetrator and the victim discuss their efforts to challenge the official World War II narrative in Lithuania and to secure historical justice.
Foti is a journalist, activist, and teacher of high-school English. Gochin, a Californian diplomat and wealth manager, has long been actively involved in Jewish affairs, especially those pertaining to Lithuania.
The event will be in the form of an interview conducted by UC San Diego Professor of literature Amelia Glaser.
Contact:
Ellysa Lim
e7lim@ucsd.edu