Posted On: October 10, 2016
Lynda Claassen, the UC San Diego Library's longtime director of Special Collections & Archives, recently received the Excellence in Stewardship Award from the UC San Diego Foundation, in recognition of her long history of building and sustaining excellent relationships with donors to the Library.
During her more than 30-year tenure as director of the Library's Special Collections and Archives, Lynda has become well-known for her collaborations—often over many years—with donors of gifts of rare and archival materials.
"There is no question that Lynda's many efforts have raised the caliber of our distinctive collections and the reputation of the Library" said University Librarian Brian Schottlaender. "But, more importantly, she has been committed to ensuring that the rare materials entrusted to us are properly cared for, in accordance with the desires of those donors who have given us their treasures for safekeeping and long-term preservation."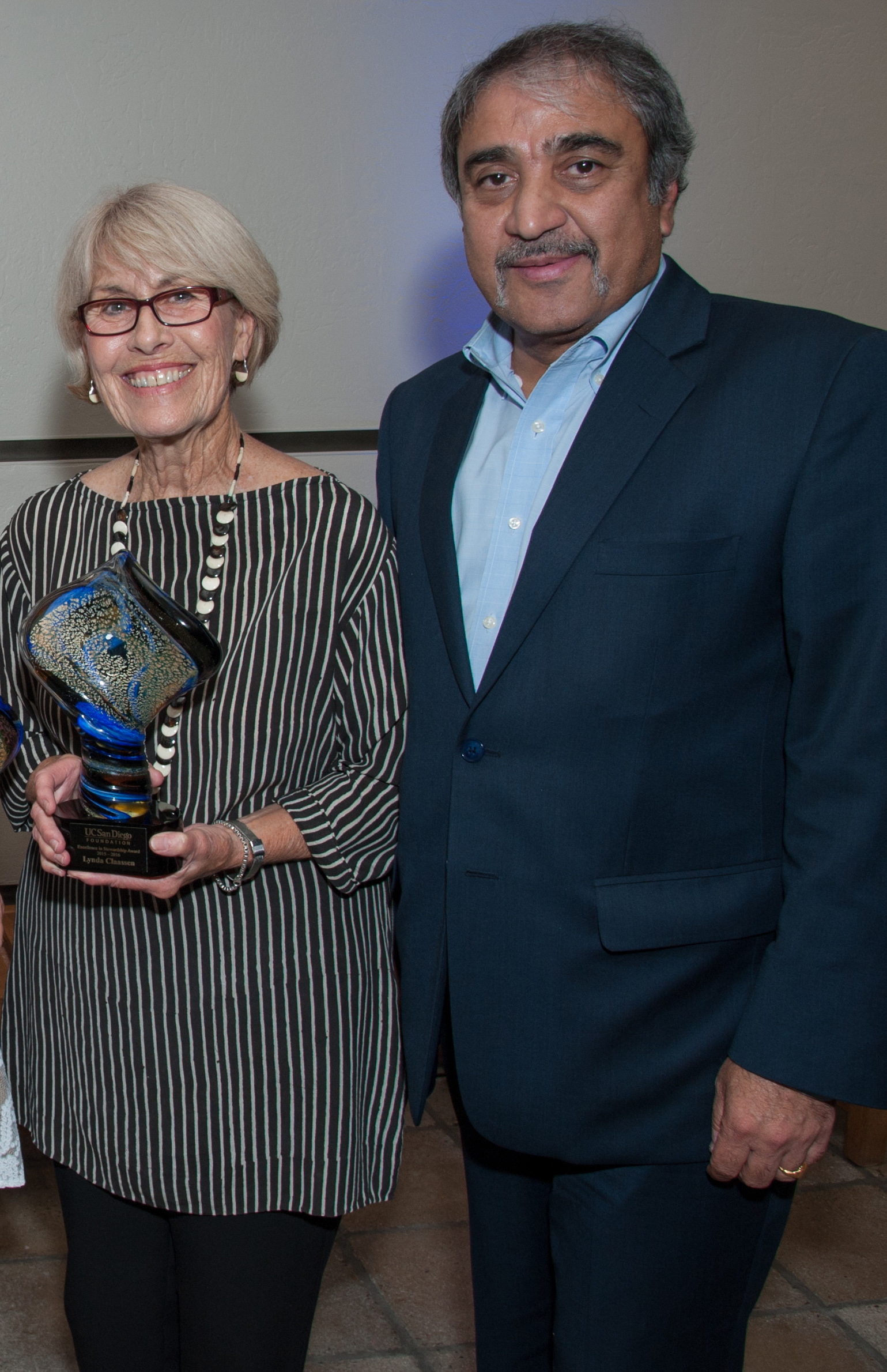 From the amazing and invaluable personal papers of Theodor Seuss Geisel—The Dr. Seuss Collection—to the visionary papers of Jonas Salk, Lynda has demonstrated a strong commitment to properly stewarding the unique materials that come to the Library, as well as a personal interest in the people who have contributed their rare gifts. These materials are a treasure trove for scholars and researchers at UC San Diego and beyond, and require her and her staff to work diligently with donors pertaining to their gifts of papers and related materials, and the corresponding deeds of gift, are often very technical and require great care and sensitivity, which Lynda masters artfully.
The Library's Special Collections & Archives includes both the Scripps Institution of Oceanography Archives and the Mandeville Special Collections. The latter includes many distinctive, world-renowned archival collections, including: The Dr. Seuss Collection; the Southworth Spanish Civil War Collection; the Archive for New Poetry; the American Institute of Wine & Food Culinary Collection; the Hill Collection of Pacific Voyages; and the personal archives of leading scientists and Nobel Laureates, including Jonas Salk, Francis Crick, Harold Urey, Maria Goeppert Mayer, and Leo Szilard. Lynda's legacy at the university is certain to be a lasting one, as she was personally involved in many of these magnificent gifts to the Library, and had long and productive relationships with many of the individuals and families who made them.