Born from a collaborative partnership between the UC San Diego Institute of Arts and Humanities and the Library, the Race and Oral History Project (ROHP) was created in 2017 in an effort to document and share stories of understudied racial and ethnic communities in the Greater San Diego region. Now in its fifth year, the ROHP team, which is comprised of various constituents across campus, is proud to celebrate more than 100 oral histories garnered as a result of the project.
During the project's inception, the Library's former Digital Humanities Librarian Erin Glass; Sociology, Ethnic Studies and Critical Gender Studies Librarian Alanna Aiko Moore; and Digital Initiatives Librarian Cristela Garcia Spitz led the charge on the Library front. They worked in lockstep with UC San Diego Department of History and Department of Ethnic Studies faculty and graduate students to create a new course, Race and Oral History in San Diego (HIUS/ETHN 120D). The librarians taught workshops on best practices for oral history and ethical transcription, launched an informational website about the project and are currently reviewing the collected oral histories to prepare them for placement in our Digital Collections. In addition to outlining the goals of the project, the new website also features the community-based organizations partnering in the course and detailed course instructions to guide students through the oral history collection process.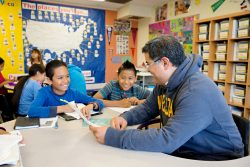 "It's been a true pleasure to collaborate with our faculty, students and community partners to bring the Race and Oral History Project to fruition," said Garcia Spitz. "I feel honored to have had the opportunity to be in the classroom teaching oral history methodology and the value of personal narratives in the historic record. Creating these oral histories not only shines light on the important work of our community partners, but also provides the world with increased understanding of the lives of refugees and immigrants in San Diego–how and when they came to be here and what their experience has been like since."
In a recent information session, Simeon Man, Ph.D., a UC San Diego history professor who taught Race and Oral History in San Diego in Spring 2022, explained the course is intended to fill two different gaps. The first is a knowledge gap of San Diego's complex histories with respect to militarization, migration and social activism. The second is a curriculum gap in terms of community engagement in the larger San Diego area beyond La Jolla.
As the ROHP website notes, San Diego is home to continually growing migrant and refugee populations displaced by wars in Southeast Asia, the Pacific and Central America, and more recently by wars in Iraq, Afghanistan, Syria, Somalia and other countries. Our region's vast defense industries and military training facilities, along with its proximity to the U.S.-Mexico border and colonization of the Kumeyaay nation, have intensified the displacement and criminalization of indigenous and racialized populations. The Race and Oral History Project seeks to tell the stories of immigrants, refugees, asylum seekers, and the organizations and community builders empowering their communities through the arts, education, mutual aid and advocacy.
"During my time in the course, I had the opportunity to interact with students from various backgrounds, majors and interests," shared Isabel Nguyen, a UC San Diego pre-med student minoring in Asian American and Pacific Islander Studies. "My group interviewed community members from the Refugee Health Unit, Somali Bantu Community of San Diego and License to Freedom, and in doing so, fostered strong relationships and learned a great deal about these specific communities. Overall, it was wonderful to be able to meet new people and bolster the strong communities we were collaborating with as a part of our work during the quarter."
At the end of each quarter, the ROHP students share oral histories, the value of building relationships with the San Diego community and the lessons learned with their peers, professors and community partners at a capstone event. For more information on the Race and Oral History project, visit knit.ucsd.edu/rohp.
—————
Special thanks to the ROHP team for their time and dedication to this work: Yến Lê Espiritu, distinguished professor of Ethnic Studies; Luis Alvarez, associate professor of History and associate dean for Academic Personnel and Equity, Diversity and Inclusion; Simeon Man, associate professor of History and the inaugural director of the Asian American and Pacific Islander Studies Program and associate director of the Institute of Arts and Humanities; Alanna Aiko Moore, Sociology, ethnic studies and critical gender studies librarian; Cristela Garcia Spitz, digital initiatives librarian; Cristabel Otero Castaneda, undergraduate student majoring in Cognitive Science – Design and Interaction and minoring in Ethnic Studies and Chicanx/Latinx Studies; Adriana Echeverria, graduate teaching assistant, Department of Ethnic Studies; and Youngoh Jung, graduate teaching assistant, Department of History.
Thank you to our participating community partners: United Women of East Africa, Allies to End Detention, Barrio Logan College Institute, Filipino American National Historical Society San Diego, American Friends Services Committee, U.S.-Mexico Border Program, Casa Familiar, Refugee Health Unit, Chamorro Hands in Education Links Unity (Che'lu), Oakland Vietnamese Chamber of Commerce, Refugee Teaching Institute, Critical Refugee Studies Collective and The New Children's Museum of San Diego.