Dinner in the Library 2012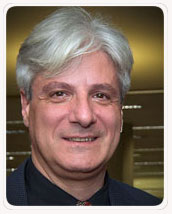 David L. Ulin
Many thanks to after-dinner speaker David L. Ulin, writer and Los Angeles Times book critic, who gave his insights on why reading is so important in the electronic age of email, tweets, and UTube. Guests enjoyed his witty remarks and left with a greater appreciation of why the written word still remains an important part of our culture.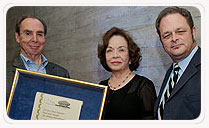 Don Lyle, Maryann Lyle, Brian Schottlaender
We also congratulate Don and Maryann Lyle as the 2012 recipients of the Geisel Citation for Library Philanthropy. The couple were recognized for their generosity in establishing the Don and Maryann Lyle Collection Endowment for Engineering, their support of biomedical materials, and for Don's leadership as chair of the University Librarian's Advisory Board. We look forward to the Lyles' continued involvement with the Library.
Our thanks go out to all who supported this year's ninth annual Dinner in the Library, including our generous 2012 sponsors and silent auction contributors.
Here are a few of this year's guests: