Dinner in the Library 2016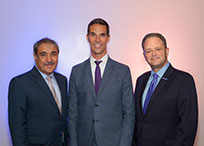 Chancellor Pradeep Khosla with featured speaker Ari Shapiro and Audrey Geisel University Librarian Brian E. C. Schottlaender
By all accounts the 13th annual Dinner in the Library was a smashing success! We are truly grateful to our generous Sponsors, members of the Inaugural Dinner in the Library Honorary Committee, and all who attended event helping us set both fundraising and attendance records. This year's theme, "Reach for the Stars," highlighted the many UC San Diego Library initiatives that help our stellar students excel and fuel UC San Diego's transformative research.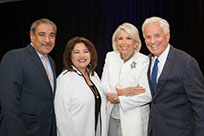 Chancellor Khosla, with UC San Diego Foundation Trustees Jerrilyn Malana '86 and The Honorable Lynn Schenk and Former UC President and UC San Diego Chancellor Dick Atkinson
Thank you to our featured speaker, Award-Winning Journalist and NPR Correspondent, Ari Shapiro for taking us "Behind the News of the Moment" with his captivating talk. You can watch his dynamic presentation now on the Library's UCTV channel.
Additionally, we were excited to announce Chancellor Pradeep K. Khosla's generous $1 million challenge grant for gifts made to the Geisel Library Revitalization Initiative (GLRI). Our goal is to make Geisel Library as inspiring on the inside as it is on the outside and one of our top priorities is to raise funds to renovate the 8th floor in time for Dinner in the Library 2017!
Our sincere thanks to all who participated in this year's Dinner in the Library. Below are photos from the event and more are available on the Library's Facebook page.
Check back often for updates on Dinner in the Library 2017!
Here are a few photos from this year's event: