Ari Shapiro
Co-Host of NPR's All Things Considered &
Award-Winning Journalist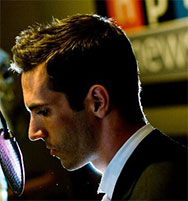 As host of NPR's award-winning afternoon news magazine, All Things Considered, Ari Shapiro covers some of the most important and impactful stories around the world. The first NPR reporter to be promoted to correspondent before age 30, Shapiro previously served as the news outlets' International Correspondent. Prior to that, he was a White House Correspondent with a front row seat to history, as he covered President Barack Obama's Administration in 2010 after five years as NPR's Justice Correspondent. His coverage of Justice Department policies and controversies chronicled one of the most tumultuous periods in the department's history.
During his impressive career, Shapiro has been recognized with several journalism honors, including The American Bar Association's Silver Gavel for his coverage of prisoners lost in Louisiana's detention system after Hurricane Katrina; The Daniel Schorr Journalism Prize for his investigation of methamphetamine use and HIV transmission; the Columbia Journalism Review's "laurel" recognition of his investigation into disability benefits for injured veterans; and the American Judges' Association's American Gavel for a body of work reporting on courts and the justice system.
He has appeared as a guest analyst on TV news programs including The NewsHour, The Rachel Maddow Show, and CNN Newsroom. As a keynote speaker, Shapiro draws from his experiences on the front lines of the world's most significant events. A smart, sharp, and widely respected journalist, Shapiro has the ability to transport audiences to the scenes of the stories that become the headlines of our lives.