Dr. Sarah Thomas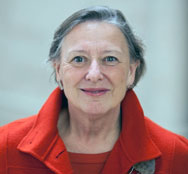 DR. SARAH THOMAS is vice president for the Harvard Library and the Roy E. Larsen Librarian of the Faculty of Arts and Sciences at Harvard University. From 2007 to 2013 she served as Bodley's Librarian, overseeing the libraries of the University of Oxford, including the historic Bodleian Library. She was University Librarian at Cornell University from 1996 until 2007. She began her career at Harvard University's Widener Library, following which she worked at Johns Hopkins University, the Research Libraries Group (Stanford, CA), the National Agricultural Library, and the Library of Congress.
Dr. Thomas is a member of the American Philosophical Society and was elected to the American Academy of Arts and Sciences in 2014. She is the recipient of the Smith College Medal, the Distinguished Alumna Award from Simmons College, and the Melvil Dewey Award from the American Library Association.
A graduate of Smith College, Dr. Thomas holds an MS in Library Science from Simmons College, Boston, and a Ph.D. in German literature from Johns Hopkins University.