Dinner in the Library 2014
Many thanks to all those who participated in this year's Dinner in the Library. We are grateful to all those who sponsored or attended the event which raised over $170,000 for library collections and services. We look forward to seeing you next year on Friday, September 18, 2015 for another celebration of the love of knowledge and learning.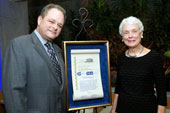 Audrey Geisel University Librarian Brian Schottlaender with 2014 Geisel Citation for Library Philanthropy recipient and former University Librarian Dorothy D. Gregor.
We congratulate Dorothy D. Gregor as this year's recipient of the Geisel Citation for Library Philanthropy. Dorothy served as UC San Diego Library's University Librarian from 1985 through 1992, an administratively challenging period which also included the oversight of the underground addition to Geisel Library. Since then, she has continued to provide valuable assistance, including the establishment of the Dorothy D. Gregor Endowment for general support of the Library's collections and services.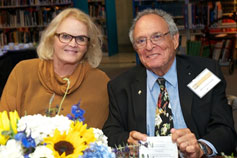 2014 featured speaker Noël Riley Fitch and her husband Albert Sonnenfeld
Many thanks to internationally recognized biographer and historian Noël Riley Fitch for her stimulating talk about her book, Appetite for Life: the Biography of Julia Child. Dinner guests travelled through Child's life, from her privileged youth, through her war-time marriage to Paul Child, and her 10-year adventure writing her first cookbook, Mastering the Art of French Cooking, which inspired millions of Americans to discover a new cuisine and launched Child into the status of a 20th Century culinary icon.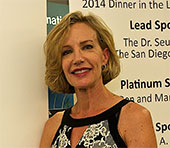 Julie Sully, new Director of Development for the Library
Ms. Fitch's 30-minute talk will air on UCTV on Monday, October 6 and will be available online on the UCTV Library Channel following the television broadcast: www.uctv.tv/library-channel.
We would like to especially thank our generous 2014 event sponsors and silent auction contributors.
Click
here
to see all the photos of this year's event!
Here are photos of a few of this year's guests: