Dinner in the Library 2013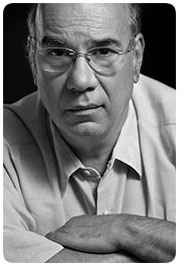 Jay Parini
Many thanks to after-dinner speaker Professor Jay Parini, author, critic, and literature and creative writing professor at Vermont's Middlebury College, who spoke eloquently about his latest volume, Promised Land: Thirteen Books that Changed America. Guests were also treated to a stirring recitation of poetry by Robert Frost—a bonus at the end of a very intellectually entertaining evening.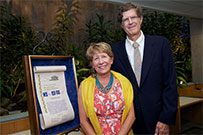 Diane De Witte and John Berol
We also congratulate John A. Berol as this year's recipient of the Geisel Citation for Library Philanthropy. John was recognized for his leadership as a founding member of the University Librarian's Advisory Board; for his naming a reading lounge in the Biomedical Library building for his mother and librarian June Waterous Berol; for his gifts-in-kind to Mandeville Special Collections Library and Archives; and his consistent support of Dinner in the Library.
We would like to especially thank our generous 2013 event sponsors and silent auction contributors.
Here are a few of this year's guests: