California Library Access Services South (CLASS)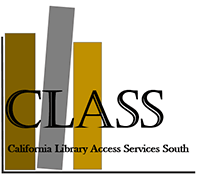 CLASS is in session!
CLASS was formed in 2018 to serve as a networking, training/programming, and community-building resource for those working in all areas and at all levels of access services in four-year academic institutions in Southern California.
Mailing List
Join our mailing list to be kept up-to-date about CLASS programming and resources. We won't share your email with others and will only send messages periodically, particularly about our events and online offerings.
Programming
CLASS hosted an in-person event in May 2019, which included a tour of the host library (the Claremont Colleges Library) and its access services unit(s), networking among peers, presentations, and discussion groups. Staff from colleges and universities in southern California, in any area of access services and at all levels, both managerial and operational, were invited and encouraged to attend. View event presentations and documents from this inaugural event here.
While a 2nd annual event was planned for May 2020 at Loyola Marymount University, it was cancelled due to the COVID-19 pandemic. Because in-person events over the next few years may be challenging, CLASS is moving to online programming for the time being. Virtual sessions are open to all who are interested, regardless of position or geographic location.
Are Your University's Classes Remote? So is CLASS!
Watch here for information about upcoming virtual sessions, as well as recordings of them.
September 2020: Come and chat with access services peers about the status of your library for the fall term. Also, please tell us what topics you'd like to see covered in future CLASS sessions by completing this brief survey.

Moderator: Joanna Kimmitt (CSU Dominguez Hills)
Tech Support: Holly Hampton (CSU San Marcos)

November 2020: Topic to be determined
January 2021: Topic to be determined
Tell Us Hot Topics on Your Mind or What You'd Like CLASS to Offer
CLASS Committee Structure
The CLASS committee year runs from July 1 to June 30.
When feasible, an in-person event is held each spring at a rotating academic library across Southern California. Attendance is limited to those in college and university libraries in Southern California. In-person events are currently on hold due to COVID-19. Instead, virtual sessions will be held every other month.
CLASS Committees:
Leadership Team: Oversees all aspects of CLASS activities, including ultimate authority for both virtual and in-person events and planning for the future of the CLASS organization. See further details here. Contact membership using email addresses at the bottom of this webpage.
Conference Planning Committee: Responsible for all aspects of hosting the annual in-person event, with the assistance of designated subcommittees. Currently on hold. See further details here.

Sponsorship Subcommittee of the Conference Planning Committee:
Responsible for actively securing, confirming, communicating with, coordinating, and promoting sponsors and sponsorships for annual in-person even. Currently on hold. See further details here.
Local Arrangements Subcommittee of the Conference Planning Committee:
Team of representatives from host library responsible for all local issues and implementation for in-person event. Currently on hold. See further details here.
Conferences
Education & Training
Professional Resources
Listservs
Questions?