California Library Access Services South (CLASS)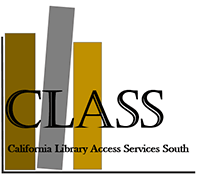 Mailing List
Join our mailing list to be kept up-to-date as event planning progresses. We won't share your email with others and will only
send messages periodically, particularly about the annual event.
CLASS is in session!
CLASS was formed in 2018 to serve as a networking, training/programming, and community-building resource for those working in access services in four-year academic institutions in Southern California.
Programming
Our goal is to offer an in-person event, at least once annually, for access services staff. The event would include a tour of the host library and its access services unit(s), networking among peers, presentations, and discussion groups.
We hope to host our inaugural event in Spring 2019.
Tell Us What You'd Like CLASS or This Website to Offer
Conferences
Education & Training
Professional Resources
Questions?
11 individuals serve on the CLASS Planning & Leadership Team who can be contacted with any questions: